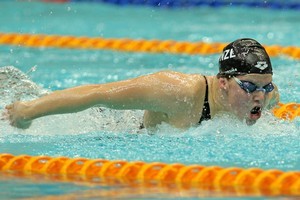 A stomach bug has seen New Zealand swimmer Natalie Wiegersma withdraw from the 400m individual medley final at the Commonwealth Games in New Delhi today.
Wiegersma qualified for the final during heats this morning with a time that was nine seconds outside her best time.
She had started to feel unwell last night and sought medical advice after today's race.
According to New Zealand team medical staff, Wiegersma has a generic stomach bug and is expected to recover fully within 24 hours.
The bug has not been reported in other parts of the team and there is no indication where the bug may have come from.
Head swimming coach Mark Regan said it was disappointing for Wiegersma, who finished fourth in the 200m individual medley final this week.
"She was looking forward to this race but there is no point her competing in her current condition," he said.
"She's proven herself as a star in the making at these Games and she'll be in good shape for her next competition later this year."
- NZPA