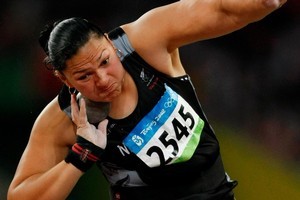 The woman behind Valerie Adams' success, Kirsten Hellier, is now coaching for China - and could become the architect of Adams' downfall in the 2012 Olympics.
While Adams was expected to cruise to gold in Delhi overnight, her path to glory in London looks a little tougher with the revelation that long-time mentor Hellier is now part of the Chinese athletic programme.
As seen in the Beijing Olympics, when the hosts managed to medal across a unprecedented variety of sports, China are either giants or sleeping giants in most Olympic sports and masters at adopting foreign expertise.
After her difficult break-up with Adams earlier this year, the Auckland-based Hellier was approached by the Chinese and has been working with their top shot putters since May. She has made several trips to China and has two young athletes with her full-time for the next six weeks in Auckland.
She sees the potential in China immense and potentially scary for New Zealand.
"The depth there is huge," she says, "it is incredible how little they actually know and how much they have achieved. It is a very exciting project because I am able to take a lot of what I have learned with Val and all my other athletes and apply it in a new place. They are just like sponges."
Included in Hellier's stable is Li Leng, the second-ranked female putter in China. She finished fourth at the 2007 world championships throwing 19.38m (Adams won with 20.54m) but has stagnated a little since then.
Hellier is charged with putting the pop back in her put.
"From a physical view, she has got all the attributes to be a top shot putter," she says of the 25-year-old. "We are looking long-term and it is a fantastically refreshing new experience for me."
Hellier is currently not involved with Gong Lijao, the 21-year-old Chinese No 1 who scored bronze at the 2009 world championships but as time passes, trust is built and her role grows, it seems inevitable she will be. The coach is clearly loving her new role in a different environment.
"The whole sporting ethos there is very different [but] to be able to apply my style of coaching - which is passionate and very hands on - and to see the changes in the athletes is very exciting and a good place to be. There is a massive pool of athletes; you are bound to get some more that could do very well."
Change has come at the right time for Hellier, who still hurts about the manner of the split with Adams.
"Val and I had a very strong relationship and shared a lot more than a typical coach-athlete relationship. It was the right thing to do, the right time ... people change ... but it was disappointing that it suddenly became - or appeared to be - more like a dirty business deal gone wrong when you have lawyers and agents [getting] involved.
"I felt it was unfortunate that it happened the way it happened because it should have been a little bit easier and a little bit nicer."
Hellier emphasises there are no hard feelings but she has moved on.
"I haven't seen Val throw at all this year. I have no idea what she is doing and have completely separated myself from that part of her life," she admits.
"The times that Val and I do get together, we don't discuss it. Obviously I wish her nothing but the best but it is no longer an interest of mine - I have moved on."
Meanwhile, in Delhi, Adams' new coach Didier Poppe says that, regardless of the energy and toil the pair put into their partnership, she will likely never be a world record holder.
That's despite consistently throwing better than any woman in the world, arch-rival Nadzeya Ostapchuk included, over the last three years with a 21.07m personal best. The world record belongs to Natalya Lisovskaya from the then Soviet Union who threw 22.63m at Moscow in June 1987 and who has the four biggest throws of all time.
"I dream every night that she might break that," Poppe laughs. "But it seems unrealistic given the 'special conditions' which that performance would have been set under.
"To get that performance, it would be like climbing Everest. It would be like achieving something nobody else has done before. At the moment we are still at base camp one.
"If you have been doing something 10 years you can't expect to change it in 10 weeks. They knew we could not be at our best during that transition period."
Poppe also spoke of the difficulties encountered after Adams' split from Hellier and husband Bertrand Vili. Those difficulties were compounded by seven straight losses to Ostapchuk as Adams refined the technique she decided to re-build after winning last year's world championship. She eventually beat the Belarussian with a 20.86m personal best throw this year, set last month in Croatia.
Adams lined up in the Commonwealth Games shot put with little to no competition. Cleopatra Borel-Brown of Trinidad and Tobago had the next best throw this year with 19.30m. After her was Jamaica's Zara Northover with 17.04m.
Poppe says life has not been easy for the pair: "From my perspective there has been a lot of trouble for Valerie and it has been difficult to get her mind around the disturbances she's had. Sometimes there have been arguments when she was nervous and angry but in the end it was a good opportunity to establish a better relationship.
"I am not in charge of Valerie, we are working together. It is a partnership," says Poppe, adding he has focused on building trust.
"You know who you are working with when you are in trouble. You need to know if you can really rely on people and I hope that is what Valerie feels has happened with me."
- Additional reporting: Andrew Alderson