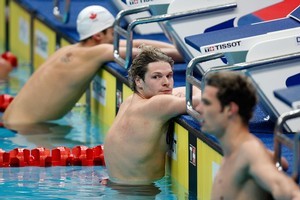 New Delhi - Two more pool finalists have emerged on the final day of Commonwealth Games swimming in Delhi, as the New Zealand squad try to seal a place as the most successful ever.
Breaststroker Glenn Snyders qualified eighth fastest in the men's 200m, and Southlander Natalie Wiegersma eighth in women's 400m individual medley for places in this evening's final.
After four pool medals last night, New Zealand have now claimed six in Delhi.
Last night was the most-medalled Games swimming session for New Zealand ever, and six medals is shy of the seven at Auckland in 1990, and Victoria four years later.
Snyders swam two minutes 14.05 seconds for fourth in his heat, finishing strongly. He last night won silver in the men's 50m breaststroke.
Scot Kris Gilchrist qualified top in 2min 12.76sec.
Wiegersma, 20, who missed a medal by a fingertip in the 200m individual medley, was also fourth in her heat, stopping the clock at 4min 48.96sec.
Hannah Miley of Scotland qualified quickest, in 4min 43.78sec.
- NZPA