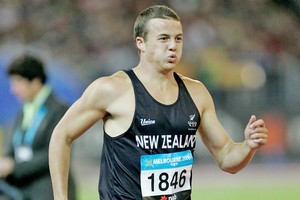 New Zealand decathlete Brent Newdick has had a strong first day at the Commonwealth Games to sprint, jump and throw himself into medal contention.
Newdick ended the day in third place, after spending much of it as the most serious challenger to Canadian show man Jamie Adjetey-Nelson.
Newdick, 25, equalled his personal best 7.42m in the long jump, after dashing through the opening 100m in 11.07 seconds.
With his 100m the third best of 14 athletes and his long jump the competition topper, Newdick was poised in second place after two disciplines of the arduous event.
Sixth in the shot put with a best of 13.98m kept him third, but 1.96m high jump - while solid - slipped him back to fourth when his nearest rivals went higher.
Englishman Martin Brockman cleared 2.14m, and Claston Bernard of Jamaica 2.08m to chalk up big points and propel themselves past the New Zealander.
After four events Adjetey-Nelson held a clear lead on 3405, with Brockman 3297, Bernard 3286, Newdick 3254 and Bharat Inder Singh fifth on 3171.
Newdick was back in the bronze medal position, after a gutsy run in the 400m - 49.86sec - and the demise of Bernard, who appeared to suffer a leg injury and trailed off badly, collecting only 614 points.
After day one the leading scorers were: Adjetey-Nelson 4238, Brockman 4114, Newdick 4075, England's Kevin Sempers 3968 and Singh, 3946.
Newdick scored 845 points in the 100m, 915 for the long jump, 727 in the shot, 767 in the high jump and 821 in the 400m.
On day two athletes contest the 110m hurdles, discus, pole vault, javelin and 1500m.
- NZPA