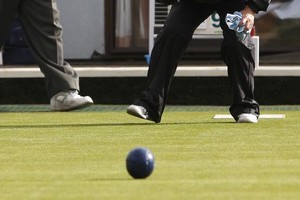 The New Zealand women's triple produced a huge comeback yesterday to climb to the top of their section at the Commonwealth Games bowls tournament in New Delhi.
Genevieve Baildon, Dale Lang and skip Karen Coombe were on the threshold of a straight-sets defeat to Namibia before dragging the contest into a tie-break, which they won convincingly. With Namibian skip Lesley Vermeuleen in excellent form, a 6-9 11-10 5-0 result had seemed improbable with just two ends left in the second set and the New Zealanders down 3-10.
However, Vermeuleen faltered for the first time and New Zealand got a three then a five to stay alive.
The Namibians couldn't get going in the tie-break. Meanwhile, the Australian triple were handed a shock defeat by Nuie, leaving Coombe and her teammates as the only combination with five wins from six matches.
New Zealand had a bye yesterday afternoon, before tackling the tough double assignment of Australia and India in the last two rounds of section play today.
The top three of each of the two sections go through to the play-offs, with the section winners getting direct entry into the semifinals.
In the men's pair, Richard Collett and skip Danny Delany, beat Samoa in straight sets to make it three wins in a row. Having started the week with three losses, they are an outside chance of progressing beyond their section.
Collett and Delany face Namibia this afternoon.
- NZPA