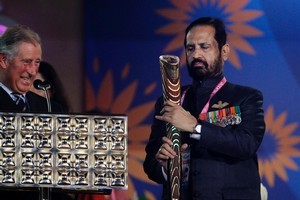 "Yes, Princess Diana was there."
Commonwealth Games supremo Suresh Kalmadi reckons one of the guests at the opening ceremony was a bit whiffy.
"I'm not the only one saying it. Lately, all of the cyclists I've interrogated have said that everyone dopes."
Italy's anti-doping prosecutor Ettore Torri on the state of cycling.
"They call me the Batman!"
Jamaican sprinter Ramone McKenzie. Well mate, as you finished second in your 100m heat at 10.40 sec, they sure as hell wouldn't call you "The Flash".
"If he's Batman, I'm Robin."
Teammate Oshane Bailey, who had the fastest time of the night at 10.12 sec in the second round. Clearly he doesn't understand that sidekicks aren't meant to be better than the principal character. Comic book .101, pal.
"Is the game over?"
A bloke in the Herald office who wandered past the sports department's big screen at first-quarter break in yesterday's netball match against England as the camera panned past rows of empty seats.
"The US Open felt like the back nine with my dad back in Portrush compared to this. That was different. I was really nervous. Wow. It's a different feeling, there's so much pressure."
US Open champion Graeme McDowell on the pressure of a Ryder Cup finale.
"After football I always had a can of Coke and a pie."
All Whites hero Winston Reid recalls his youthful playing days.