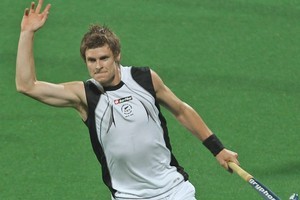 The New Zealand men's hockey team shut down their South African counterparts overnight to claim a second win at the Commonwealth Games in New Delhi.
With New Zealand ranked seventh in the world and South Africa ranked 12th, the match was expected to be close, however, New Zealand quickly asserted dominance and were rewarded with a 4-2 victory.
New Zealand was first to score, with defender Hayden Shaw firing home a powerful shot off a penalty corner in the seventh minute.
Captain Philip Burrows followed up with another goal one minute later when he latched on to a pass from Stephen Jenness and drove a shot to the right of the South African goalkeeper.
South Africa fought back in the 15th minute, when striker Lloyd Norris-Jones beat Shaw to grab his team's first goal.
However, the reply did nothing to dampen New Zealand's spirits and they snatched back their two-goal lead a minute later when Jenness got his stick to a shot from Nick Wilson to find the back of the net.
The punishment continued for South Africa in the 31st minute, when Wilson scored with a powerful shot from the top of circle to take New Zealand's lead to 4-1 going into the break.
South Africa battled hard in the second half and were rewarded with a goal from striker Justin Reid-Ross with six minutes remaining but were unable to close the gap any further.
The win was the second for the New Zealand side in New Delhi, having won their opening match against Trinidad and Tobago 7-1 on Tuesday.
New Zealand's remaining group B matches are against Canada and England.
- NZPA