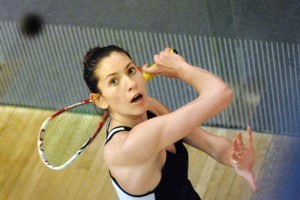 Joelle King went within a whisker of pulling off an upset in her quarter-final women's squash match against England's Alison Waters yesterday.
King, seeded 12th, had the job ahead of her against Waters, who is ranked fourth in the world and is the third seed in the singles.
But King, who has improved rapidly this year to earn a world high ranking of 20th, battled all the way and Waters was mighty relieved to finally win 12-10, 9-11, 11-5, 10-12, 11-2.
King, from Cambridge, was unlucky to lose the first game after leading 8-7, but showed her fighting qualities to win very close second and fourth games.
She impressed with her court coverage and rock-solid backhand. Waters caught her several times with clever crosscourt angles and ran away with the fifth game against a tiring King. Even so, it has been a good tournament for the 21-year-old New Zealander, who won her first national crown last month. She has exceeded her seeding and hinted that she has the potential to rise further in the world rankings.
"Obviously I'm very disappointed now, but I think looking ahead there will be a lot of positives to take out of that match," said King.
- NZPA