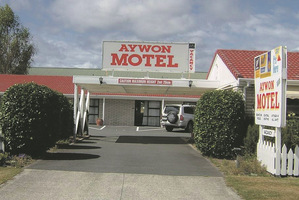 An urgent sale is being sought by the owners of a motel business and property in Rotorua with the asking price slashed by $250,000 below its May 2012 valuation.
"The complete package consists of freehold land, buildings, a running business and all associated chattels," says Paul Sanford of NAI Harcourts Rotorua, who is seeking $995,000 plus GST for the Aywon Motel at 18-20 Trigg Ave, Rotorua.
"A buyer could step into this motel today and take over all ongoing booked business," Sanford says. "The owners want an urgent sale now for health reasons."
The Aywon Motel has 15 units and four-bedroom operator's accommodation. There are seven studio units, five 1-bedroom units and three 2-bedroom units. Nine have spa pools. The motel is opposite the Distinction Hotel within Rotorua's main tourism accommodation zone.
Sanford says the owners operated the business under a lease arrangement until 2008 when the they took it over.
From 2002 the property was leased for $110,000 plus GST until 2005 when the lease was increased to $115,000 plus GST.
"The economic downturn saw the owners take the motel back over and begin a programme to refurbish and re-establish the business," Sanford says. "Turnover has continued to improve over the past three years, in contrast to most motel operators who have experienced a decline in income during this period.
"Current occupancy is only at 36.37 per cent, although future bookings are indicating an increase in this level during the summer season."
The property is freehold and on 2185sq m of land. "The exterior is subject to a strict maintenance campaign and the units are well presented with quality linen and furnishing," Sanford says.
Heating is provided by hot water radiators connected to a gas boiler system.
A full laundry service is available on site but the current owner chooses to contract out the linen.
"Accommodation is of key importance to any owner-operator or lessee and this complex has a generous owner's accommodation area," says Sanford. "Included is a small reception office, full kitchen, 3 to 4 bedrooms, an extra office, plus toilet and bathroom facilities. There is also a private outdoor area."
Other buildings on site include a drying room with laundry and spa pool.
The motel has a 500sq m sealed car parking area and 100sq m of cobblestones and general lawns and gardens.
"During the past four years the owners have protected their investment by reinvesting profit back into the upkeep of the motel complex and this can be clearly seen by the well-presented units and other aspects of the property," Sanford says.
"Although they were willing to continue operating the business as a retirement plan, they now have to leave the motel due to their personal circumstances. While this is unfortunate for the current owners, the need for an urgent sale does present an advantage for an incoming owner or investor.
"They have developed good relationships with their customers and track all information and plus repeat business through their computer system.
"Analysis of expenditure and income is immediately on hand when any prospective purchasers visit.
"Looking at the current expenditure, it is clear that costs can be saved by a new owner doing the laundry and maintenance."
Sanford says any prospective purchaser will be immediately supplied with all the information needed to make a quick and informed decision on the purchase of this property, its business and current chattels.
"On application we will send the LIM [Land Information Memorandum] from the council on the property, the full valuation completed in May 2012, the full financials for the past four years, current sales from March 2013 to end of September, and the full operating chattels list."