Meeting today presents chance for Metropolis apartment owners to sort out major issues.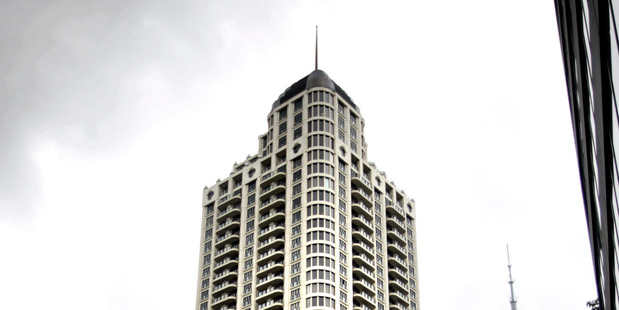 Metropolis apartment owners were at one another's throats on the eve of today's crucial meeting to decide the central Auckland tower's fate.
An angry 18-page email exchange is making its way around parties close to owners, revealing deep-seated divisions and disputes on the body corporate representing owners in the 40-level block.
An extraordinary general meeting is planned for 4pm to thrash out some of the most contentious issues.
Concerns range from whether those on the body corporate committee should engage with the media without owners voting, to the powers of body corporate chairman Tony Howard, a businessman of Howard Group, and calls for new committee members.
A new faction, the Responsible Owners' Group, has arisen after the Concerned Owners' Group began a few months ago to unseat the long-standing body corporate chaired by Roger Apperley. The ROG now wants to unseat warring members of the COG.
Alex Babukhin, a real estate agent and apartment owner, questioned Mr Howard's media moves, after recent Herald publicity and an approach from Metro writer Donna Chisholm.
"You are going to talk to the media without consulting with other members in the committee. I truly believe it is a big step that needs to have a discussion and possibly a vote on," he told the chairman.
Julia Best, also on the body corporate and a property specialist, discouraged media contact, saying there had been "deep disquiet with the chairman [Mr Howard] and committee members engaging with the New Zealand Herald on a previous occasion".
"If you are looking for your name in lights, you will definitely achieve that. But it will come at a cost. My advice is to ignore Donna Chisholm's requests for comment and do not respond to her."
Mr Howard took issue with Julia Best's overly long statements over tower disputes.
"Please try to condense your emails just to the facts and not try to journalise the story. My time is precious and I rarely read yours [emails]. They are doing nothing to restore Metropolis!" he told her.
But she told him not to "overstate" his responsibilities as chairman and accused him of undermining the body corporate's progress.
Mr Howard revealed what he called "a standoff between Julia and myself" and offered to openly resign his chairmanship if people had lost confidence in his ability to rebuild the tower's operation and reputation.
METROPOLIS WARS
Three factions:
Responsible Owners Group
New group to unseat existing body corporate, the Concerned Owners Group.
Aims to end war of words and "dysfunctional" existing body corporate.
Members: unknown at this point.
Concerned Owners Group
Elected this year to sort out long-running issues.
Fighting with each other, wracked by resignation and absentee issues.
Members: Tony Howard, Julia Best, Alex Babukhin, Mira Oh, Peter Malin.
Former body corporate, members served some years
Unseated this year by Concerned Owners Group.
Fights over management, expenses, leaky building repairs.
Members: Roger Apperley (chairman), Peter Francis, Sally Synnott, John Morris, John Carter, building manager Dave Burgess.