Freehold, centre-city property houses Rotorua branch of cowboy-themed establishment Lone Star Cafe.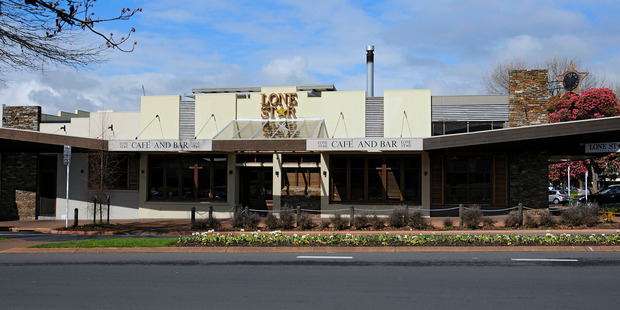 A Rotorua CBD freehold retail property that has been occupied for over a decade by the Lone Star, a popular cowboy-themed cafe and bar, is for sale by private treaty through Bill Wilson of Bayleys Rotorua.
"This is a quality ... early 2000s building which the vendor advises has recently been assessed at at least 100 per cent of new building standard [NBS] by civil and structural engineers," says Wilson.
"The property's prime location on the corner of Amohia St and Arawa St puts it squarely in the neighbourhood of other hospitality and accommodation businesses which provide positive flow-on effects for the cafe and bar operation.
"A corner site is widely touted as enhancing a property's long-term worth and this building's attractive and timeless look will also go the distance."
High Chaparral Ltd, trading as Lone Star Cafe and Bar, has been the original tenant on the site since 2002.
The cafe and bar has an initial 15-year-lease and pays a net rental of $147,000 per annum, which has personal guarantees. Rent reviews are two-yearly and there is one right of renewal of a further 15 years.
The property at 1160 Amohia St is owned by a Tauranga-based family trust and comprises a 583sq m north-facing building with 504sq m of ground floor space and a 79sq m mezzanine area situated on a freehold 506sq m corner site.
Constructed with concrete tilt panel walls with steel portal frames and long run roofing, the building has a contemporary feel with the stone and timber elements featured on the exterior carrying though into the internal spaces.
The dining area has timber floors, stone highlights and a mix of booth tables and freestanding dining tables. The full commercial kitchen fitout is streamlined and functional.
"The main cafe and bar operation can comfortably host around 140 guests and a further 45 can be catered for in the function room," says Wilson.
The Lone Star chain now operates in 20 locations around New Zealand having commenced business in 1988 with its Manchester St, Christchurch operation, which was badly damaged and then demolished post-earthquake.
Wilson says strategies being implemented in the tourism and local body areas should give heart to prospective commercial investors eyeing up Rotorua as a possible investment option.
"Long-championed as an international tourist destination, a current domestic marketing campaign by Destination Rotorua Marketing is in phase one of a three-year conversation around attracting and re-attracting New Zealanders into the city.
"The campaign, called 'Famously Rotorua', invites New Zealanders to not only visit, but consider Rotorua as a place to live, work, and invest," says Wilson.
"As a regional proposition for out of town commercial investors looking to extend their portfolio net, Rotorua property represents good value for money.
"The Rotorua District Council recently announced that thanks to continuous business efficiency, it proposes to hold its next rate increase to less than 1 per cent. This would mean they have achieved one of the country's lowest overall rates increases for the fifth year in a row - an annual average increase of less than 2 per cent over five years.
"In addition, the council's 2013/14 draft Annual Plan reinforces three key themes - economic prosperity, environmental improvement and continuous business improvement. Further revitalisation of the CBD is a major priority along with funding for tourism marketing programmes, business and investment attraction through Grow Rotorua Ltd, and other economic growth initiatives."
What you'll get
On offer: Freehold commercial property
Address: 1160 Amohia St, Rotorua
Comprising: 583sq m building on 560 sq m site
Tenant: Lone Star Cafe and Bar
Rent: $147,000 per annum