Versatile business with big potential an ideal opportunity for boat enthusiast.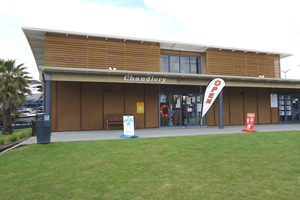 A well-established chandlery business at an attractive marina south of Auckland is being marketed for sale by Darcy Snowden of Christopher Brown & Associates for an asking price of $390,000, including stock, chattels and goodwill.
Snowden says the Pine Harbour Chandlery & Supplies store at 190 Jack Lachlan Drive, Beachlands, is showing a good profit and there are opportunities for exponential growth.
"This is an ideal enterprise for someone who enjoys talking boats and about the best overnight anchorages, fishing and diving spots and so on. At the business end, it involves selling and advising on what products or goods would best suit each boat owner's requirements."
Products and services include a large selection of stainless-steel fixings, painting materials, inflatable dinghies, small outboard motors, lifejackets and safety equipment, ropes, chains, fishing gear including bait and ice, harbour charts, refilling LPG cylinders, boating books and magazines.
"Given there is no dairy nearby the store also carries a small grocery range along with takeaway foods like pies, sandwiches and drinks," Snowden says. The business has considerable room to increase sales and profits, he says. "Some of the ways this could be achieved is through the store having its own website with online sales facilities, filling dive cylinders, stocking kayaks and canoes, water-sports gear, more sailing equipment, appliances such as stoves, fridges and toilets, and items for motorhomes."
Snowden says Pine Harbour, a growing area, is strategically situated on the southeast of the Hauraki Gulf. It is close to the southern end of Waiheke Island and smaller Gulf islands and within easy sailing distance to the Coromandel.
The marina has 570 berths and a large hard stand area with excellent haul-out facilities. Supporting trade businesses include engineering workshops, boat repairers and painters.
Within the marina retail area there are cafes, a Japanese restaurant, hair and beauty salon, boat brokerage, real estate agent, dentist, security firm, the marina office and gardens, which are popular with families and picnickers. To the side of the marina entrance is a car museum. Pine Harbour Marina also offers overnight parking.
Snowden says the area offers an attractive lifestyle to prospective purchasers of the business with excellent housing and schools within the Maraetai, Beachlands, Pine Harbour and Clevedon areas. "Pine Harbour Marina itself has been re-zoned to allow a number of residential dwellings built that will see a mix of terraced and apartment housing ranging from two to five stories."
A regular and well-patronised ferry service runs between Pine Harbour and the Auckland CBD with the trip taking 30 minutes each way.
A short drive away is the Sir Bob Charles-designed Formosa golf and country club that was the venue for the New Zealand Open in 1998 and which offers a gym and swimming pool open to the public, plus conference, wedding, private function and accommodation facilities.
Snowden says the owners have decided to pursue other interests after four years running the business.
"When they purchased the business they had no experience in this type of retailing. However, if a new owner requested they would be willing to stay on during a transition period to ensure a smooth takeover."
What's on offer
On offer: Chandlery & Supplies store
Where: Beachlands, south of Auckland
Asking price: $390,000 including stock
Agency: Christopher Brown & Associates
Agent: Darcy Snowden
Would suit: Purchaser interested in boats