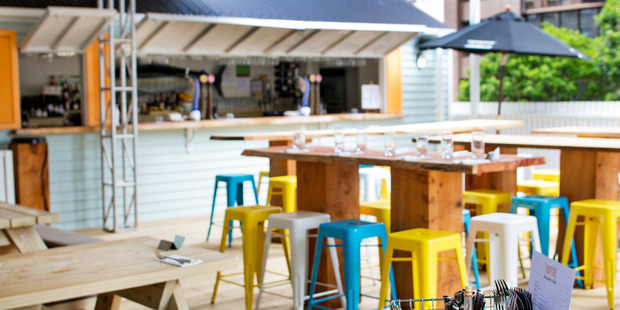 An American beach-themed eaterie making waves in Auckland's corporate heart is expected to operate for only a couple more months, but then something more permanent is envisaged for the Shortland St site.
Greg Loveridge, director of landlord Robt Jones Holdings, said no decision had been made about the future of The Hamptons, which is due to finish operating in May.
But his company has larger plans for the area at the bottom of the AIG building at 37-41 Shortland St.
"It's a pop-up bar/restaurant there for four months. We have plans for a more permanent restaurant as well," he said.
The venue has been built in what was an open outdoor space off Shortland St at the tower's entrance, but Loveridge said this area was never a designated formal public open space on Auckland Council's district plan and so was operating legally.
"It's not public space. However, sometime in the 1970s/80s, a deal was done that would turn it over to public space if additional floors - from memory 10 - were built on the existing tower.
This never happened," he said.
Clarification that the area was not public open space was given to the company at a council urban design panel hearing last year, he said.
Some surprise has been expressed about the rustic nature of materials and construction on the street frontage of the cafe site but Loveridge said more permanent materials including stone would be considered for the new restaurant.
Reviews said the casual venue with its weatherboards, white picket fences, garden boxes and brightly coloured stools was a perfect mix with the surrounding towering steel and mirrored office towers.
Old-fashioned lifesaving rings, rustic wooden bar leaners, circular boat windows on doors, hanging surfboards and a casual cabana bar flanked with shutters characterised the beach theme.
The Hamptons is the latest project for restaurateur Tony Stewart of Clooney, who teamed up with head chef Des Harris, Tom Mayo and Grant Calder to open the venue in January.
It was designed to evoke the dreamy feel of the Long Island peninsula in the state of New York.
Reviewers have praised the pop-up bar, describing it as a relaxed and sophisticated haven that provided a respite from the busyness of the suited-up, silver towered office blocks of Shortland St.
The 19-level AIG office tower with an arcade and plaza area and a separate annexe was previously the AXA Centre and the National Mutual Centre. The block, refurbished in 1998, was designed by Peddle Thorp & Walker and formerly owned by the National Mutual Life Association.