Confidential council agenda item looked at proposal for new HQ for dairy giant in Wynyard Quarter.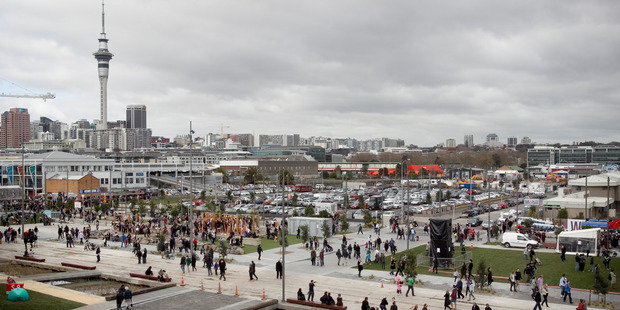 A secret Auckland Council agenda item revealed the Wynyard Quarter as a possible site for Fonterra's planned new $100 million campus-style world headquarters.
The confidential agenda item - prepared for a full council meeting on January 31 - was to be presented by Waterfront Auckland chief executive John Dalzell, general manager property and assets Richard Aitken and general manager corporate services Carl Gosbee and said that Waterfront Auckland shareholder or council approval was required for a Fonterra proposal.
"The public conduct of the part of the meeting would be likely to result in the disclosure of information for which good reason for withholding exists," said agenda item headed "governing body decision made during 2012/13 Christmas recess period: Waterfront Auckland, shareholder approval for Fonterra proposal".
Mayor Len Brown and Deputy Mayor Penny Hulse put the resolution to ban the public from the morning meeting because a report and its attachment had commercially sensitive asset information, and therefore the outcome of the meeting is unknown.
Local developer/investor Newcrest is understood to be involved in investigating a possible Fonterra campus behind the corner of Halsey and Pakenham Streets, adjacent to the Innovation Precinct.
The world's largest global milk processor and dairy exporter is understood to have not yet signed up for the Waterfront Auckland site and is eyeing three to four locations, including Fanshawe St Viaduct Harbour Holding land.
Around 900 staff are due to move to a new location.
Fonterra's negotiations are understood to have involved a developer and a builder, including a Fletcher Building business.
A Fletcher spokesman said yesterday his company was keen on the project.
"It wouldn't be appropriate for us to discuss which potential clients we might be in discussions with.
"That's for them to disclose if they so wish. But needless to say, we'd welcome an opportunity to be part of a new commercial development in the Auckland CBD if that was what Fonterra decided to do," he said.
Waterfront Auckland has announced a plan to create an Innovation Precinct at Wynyard Quarter and Fonterra is seen as a tenant of some gravitas for that scheme.
Waterfront Auckland is also understood to be negotiating to get paid a ground lease slightly better than the assessed commercial value on its site in recognition for the higher amenity value.
Fonterra has sought expressions of interest from developers and property owners, saying it wants to move into the country's best new building in about four years time, in what could be a $100 million-plus boost for the construction sector.
Theo Spierings, chief executive, issued a 21-page brief describing how the property must surpass much of the existing real estate stock, be of international quality, designed to promote 21st century knowledge and working patterns, and be able to enhance work style.
Council-controlled organisation Waterfront Auckland says it is dedicated to "leading the revitalisation of the inner-city waterfront" during 30 years to "directly support 20,000 new full-time jobs in Auckland and will contribute indirectly to a further 20,000 jobs across the region".
"The cruise industry, tourism and events and construction will play a huge role in this. Nearly 14,000 people are expected to be employed across the waterfront in a range of industries including business services, food/beverage, retail, cultural/community services, marine and fishing," Waterfront Auckland said.
Apartments, restaurants, shops and cafes are a big part of the plan but offices are seen as crucial to getting thousands of people into the area and staff from ASB will soon shift into the new North Wharf building. About 1500 staff will leave Albert St for the $132 million headquarters around June.
What they want
Fonterra:
* New world HQ in Auckland CBD or fringe.
* Office area of 1.1ha to 1.3ha floorspace.
* Good light penetration.
* Exposed, robust, honest construction.
* Large, efficient floor plates.
* Bringing people and ambition together
Source: Fonterra request for expressions of interest for new HQ
Waterfront Auckland
* Auckland Council-controlled organisation.
* Responsible for developing waterfront sites.