Wall of investment money looking for a home and owner-occupiers also returning.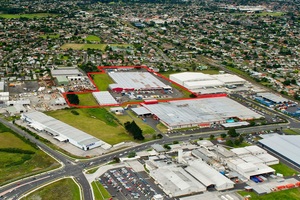 Colliers International's industrial team, based at Highbrook, South Auckland, reported a record year for 2012 through a broad range of sales and leasing deals.
The team's 14 brokers transacted $560 million of industrial real estate last year beating its previous two best-ever years, in 2010 and 2011.
"For a relatively small team to transact well over half a billion dollars' worth of industrial real estate in a year when the market was pretty tough is a great result," says Greg Goldfinch, general manager of industrial sales and leasing. "The record years we achieved in 2010, 2011 and 2012 are a product of the hard work the team has put in and leveraging off the market relationships team members have forged over the past five or six years."
Highlight transactions for Highbrook included the sale, in conjunction with Colliers' corporate and institutional sales team, of The Warehouse's North Island distribution centre in Wiri, Auckland, to ACC for $90 million.
"This deal, which was completed in June 2012, represented the biggest industrial investment sale ever seen in New Zealand," Goldfinch says.
Among the team's other investment sales at the upper end of the market last year was the confidential sale and leaseback of a large 5.8ha property in September in Wiri, for around $30 million.
In November, the team sold a 4.5ha site at 170 Swanson Rd, Henderson, West Auckland, tenanted by Transportation Auckland Corporation, to listed property fund, Property For Industry, on behalf of Norak Properties for $11.9 million at a 7.75 per cent yield. In the same month, the team also sold the 5.5ha next door property at 114 Swanson Rd to Westend Property (Commercial Investment Properties) for £27.1 million at a 7.99 per cent yield.
Another noteworthy investment sale also completed in November 2012 was 3 Monahan Rd, Mt Wellington, tenanted by Turners & Growers. The 1.2ha site was sold to a private investor for $8.2 million at a 7.35 per cent yield.
"A-grade investment stock was in very high demand last year," says Goldfinch. "There is a wall of investment money looking for a home, and offerings with the key elements of strong tenant covenant, fundamentally sound real estate and solid lease terms achieved very firm yields last year. This is likely to continue in 2013."
Owner-occupiers are also returning to the market, he says. "We have sold several properties to small to medium sized industrial businesses which were keen to own their own bricks and mortar."
The low interest rate environment of the past couple of years has meant conditions were right for businesses to own their premises.
"While the owner occupier market is still nowhere near as active as the pre-global financial crisis levels of 2007, it is steadily improving as we head into 2013 and we expect this trend to continue."
Complementing Colliers Highbrook's industrial sales were a range of leasing deals in the market in 2012, amounting to 237,206sq m of industrial space leased.
One of the highlights of the year was the negotiation of a new 17,500sq m design-build distribution centre for Frucor Beverages at Goodman's M20 Business Park, Wiri, in March.
This was followed in May by the negotiation of another design-build leaseback facility, for Mainstream Logistics NZ. The 11,345sq m building will be purpose-built and owned by Goodman International at their Savill Link business park in Otahuhu.
"A good number of small to medium-sized lease deals the team completed in 2012 also show that smaller businesses are back making property decisions ..." Goldfinch says.
Goldfinch says the Highbrook office broadened its focus on the West Auckland industrial market in 2012, with the appointment of Chris Upright from Bayleys, "who brought considerable expertise in that market to the team".
$560m deals
Agency report: 2012 record for industrial deals
Achieved by: Colliers' Highbrook office, South Auckland
Deals transacted: Valued at $560 million
Highlight deal: Warehouse NI distribution centre, Wiri, sold for $90 million
Prediction: Trend to continue in 2013