Analyst predicts A$3 billion annual turnover from VIP clients at riverside casinoAn artist's impression of the SkyCity Adelaide casino development, which is aimed at attracting more high-rollers to the tables.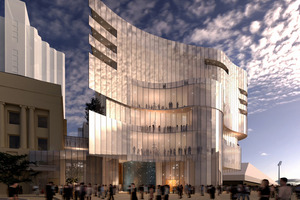 SkyCity Entertainment Group's A$350 million riverside Australian development is forecast to increase annual pre-tax earnings by A$62 million in five years.
Morningstar analyst Nachi Moghe predicted A$3 billion annual VIP turnover from Adelaide in 2018, generating A$41 million revenue.
The Auckland-based company's deal was transformational and once its Australian push was completed the gaming business would enjoy a significant jump in revenue, Moghe said.
"We forecast Adelaide's ebitda to increase by A$62 million on an incremental basis by 2018, implying a post-tax return on investment of 10.5 per cent which will rise to 18.3 per cent by 2022.
"We are increasing our valuation to $4.70 per share, mainly driven by Adelaide's expansion and the roll-forward of our earnings model.
"Consequently the stock appears undervalued compared to our intrinsic value," he said, putting an accumulate recommendation out until the share price gets to $4.23.
SkyCity, with a market capitalisation of $2.3 billion, has been trading up at $3.99 although Moghe said the entire expansion would be funded by debt so gearing would rise from 2.3 times ebitda to 2.4 times in 2016 before trending downwards.
"This is within the company's banking covenants of 2.7 times," he said, projecting net after-tax profit of $146.8 million from $894.1 million revenue in 2013, rising to $164.7 million on revenue of $1 billion by 2015.
The redevelopment will run from 2014-16 and the addition of new gaming machines and tables will dramatically change the revenue mix in favour of premium VIP customers.
About 200 electronic gaming machines will initially be installed, then a further 305 machines with an extra 110 tables.
The existing casino's archaic coin-based gaming system, higher taxes on electronic gaming machines and the lack of restaurants and bars meant VIP players shunned it, Moghe said.
New VIP areas would be modelled on Auckland's Horizon suite with about 16 tables. That had been a big success, instrumental in boosting VIP revenues from $26 million in 2011 to $51 million last year.
Problem Gambling Foundation chief Graeme Ramsey said SkyCity was unable to expand its casino operations in New Zealand so it was no surprise it looked to other jurisdictions.
Moghe remained bullish about Auckland, which generates 60 per cent operating profit, noting how the Government's blanket ban on new casino licences meant SkyCity faced little competition.
"This has allowed the company to operate at very healthy profit margins and generate abundant cash flows. Judicious investments are being considered to lift growth in the longer term."
Moghe also remained hopeful SkyCity would expand its presence in Auckland, predicting an increase of 70c a share if it wins the right to build the National Convention and Exhibition Centre. SkyCity shares closed down 2c yesterday at $3.98.

Adelaide ambitions
• Existing casino to be expanded.
• 150-room, six-star boutique hotel.
• Celebrity restaurants by 2016.
• VIP gaming suites and salons.
• Reconfigure existing building to add 200 new machines.
• New building for 305 machines, 110 tables.
Source: Morningstar Equity Research