Analyst tips $64.1 million net profit in 2014 year as presentation to Asian investors claims five-year return of 25.7 per cent.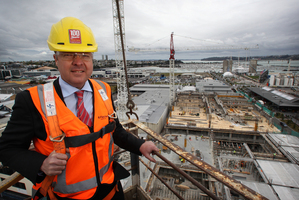 New Zealand's biggest listed diversified real estate business told the Asian investment community this week it was one of the world's top performers in its sector.
Chris Gudgeon, Kiwi Income Property Trust chief executive, was in Singapore yesterday telling how Kiwi's total five-year return was 25.7 per cent - higher than the overall returns generated from real estate businesses in New Zealand and below only those in Canada and the United States.
"The New Zealand listed property sector has generally outperformed the global real estate investment trust markets due to its tractional, conservative approach to real estate investment. The trust has delivered a total return since inception in 1993 of 9.9 per cent," the presentation said.
Kiwi posted a copy of a presentation for an institutional investor roadshow on the NZX yesterday and Gudgeon will speak in Tokyo tomorrow.
Institutional investment chiefs in Auckland said yesterday it was not unusual for Kiwi to make such presentations.
Craig Brown, OnePath senior investment analyst, said Kiwi had a number of overseas investors including those based in Asia. Kiwi executives also often attended a Citibank global property conference in the United States with its Australian counterparts, ASX-listed Commonwealth Property Office Fund and CFS Retail Property Trust Group around this time of the year, he said.
Craig Tyson, OnePath equity investment manager, called for Kiwi to change its focus from commercial to retail.
"We would prefer to see Kiwi as a vehicle focused on the retail sector," Tyson said.
"They have very good retail assets, complemented by the well-timed purchase of LynnMall, whereas we don't believe that they have a particular competitive advantage in office," he said.
"If they could invest in well located shopping malls/centres with redevelopment potential in key NZ markets and partly fund the acquisition of these assets with the sale of office assets, then we believe that they could add significant value for unitholders over the medium to long term."
Kiwi derives 68 per cent of its gross income from retail and just 32 per cent from office and owns New Zealand's largest enclosed shopping mall, the $500.5 million Sylvia Park at Mt Wellington.
It is spending $47 million redeveloping Centre Place in Hamilton and will this year complete a project on the site bringing in a 7000sq m Farmers department store as well as a new Hoyts Cinema complex, due to open in October on a 15-year lease.
The $188 million LynnMall at New Lynn will be expanded and Kiwi's presentation told how it was a "strategic acquisition" representing good buying at a cyclical low in 2010.
The presentation also emphasised the corporate strength of Kiwi's property manager, which is owned by Colonial First State Global Asset Management, which has $96.5 billion funds under management here and in Australia, $34.2 billion in Europe, $19.9 billion in Asia and $1.6 billion in North America.
Forsyth Barr analyst Jeremy Simpson is projecting Kiwi will make $64.1 million net profit after tax in the 2014 year, rising to $68.5 million in 2015 and that the business is "low-risk exposure".
Five-year returns to December 31, 2012
* Canada - 49.1 per cent
* USA - 28.7 per cent
* Kiwi Income Property Trust - 25.7 per cent
* New Zealand - 22.8 per cent
* Singapore - 1 per cent
* Japan - 15.6 per cent
* United Kingdom - 25 per cent
* Australia - 37.7 per cent
Source: Kiwi Income Property Trust