Asia's richest man buys NZ's second biggest waste management firm from Ironbridge.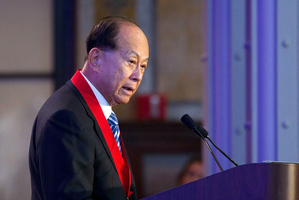 Asia's richest man, Sir Li Ka-Shing, is EnviroWaste's new owner after his Hong Kong-based Cheung Kong Infrastructure (CKI) paid $501 million for New Zealand's second biggest waste management company.
Li, who started out in commercial life selling plastic flowers in Hong Kong, is no stranger to New Zealand, having picked up the Wellington electricity network for $785 million in 2008.
CKI said it had agreed to buy EnviroWaste from Australian private equity company Ironbridge Capital, for $501 million - being $490 million and $11 million of assumed debt. The deal still needs Overseas Investment Office approval.
Ironbridge said the transaction value assumed finance lease obligations and represented a multiple of 10 times the company's earnings before interest, tax, depreciation and amortisation, for the June 2012 year.
Ironbridge acquired EnviroWaste from roading contractor Fulton Hogan in April 2007 for $365 million and went on to make 17 related "bolt-on" acquisitions.
Today, EnviroWaste and Australia's Transpacific form a duopoly in New Zealand waste management, with the latter the bigger competitor.
EnviroWaste's management team of Kim Ellis, Gary Saunders and Earl Gasparich will continue to lead the business under CKI's ownership.
Ellis, who headed up the NZX-listed Waste Management when it was bought by Transpacific in 2006, said CKI had paid a full price for EnviroWaste.
The $500 million price tag put on the company by Ironbridge was viewed with some scepticism when the asset was put up for sale last year.
"It's not like selling things in 2005 but I think under the circumstances it's a reasonable multiple and now we have moved on to a new owner," Ellis said. "From a management point of view, sure they made a few dollars - but not much - and it is now just business as usual under a new owner," he said.
Property development and contaminated site work - important sectors for waste management companies - have been slack over the last few years in the aftermath of the global financial crisis, but Ellis said the future was looking brighter thanks to better economic conditions.
EnviroWaste's earnings before interest and tax of $32.16 million in the year to June 30, 2012 was up from $25.45 million in the previous year. Revenue of $163 million was up from $144 million in the previous year. Finance costs took the bottom line to a loss of $18.98 million.
CKI is part of Li's Cheung Kong Group which includes, Hutchison Whampoa, and Power Assets Holdings.
- APNZ