Consents worth $1 billion issued for all residential and non-residential work in November.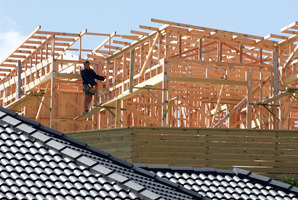 The building sector has taken off and Canterbury earthquake repairs are one of its biggest drivers.
Statistics NZ said the number of new house and apartment consents issued in November jumped 20 per cent compared with the same month in 2011 and excluding apartments, were up 27 per cent.
Since last March, the consent data shot up 41 per cent.
Canterbury consents for earthquake-related work totalled $59 million in November, well up on previous monthly values which had been as low as $25 million last year.
Of that $59 million in November, $25 million was for residential buildings and that included 39 new dwellings. A further $33 million was for non-residential building work.
Since the first earthquake on September 4, 2010, almost 3400 earthquake-related consents have been issued in Canterbury for work worth $749 million, Statistics NZ said.
In the year to November, building consents were issued for more than $10 billion worth of work, up 18 per cent on the November 2011 year.
Offices and administration buildings, shops, restaurants, and taverns and education buildings were the largest contributors to the value of non-residential work where building was busiest in Auckland, Canterbury, Wellington, Waikato and Otago.
Darren Gibbs, Deutsche Bank chief economist, said the residential consent trend was firmly upwards supported by Canterbury rebuilding and demand for housing in the Auckland region.
Consents worth $1 billion were issued for all building work - residential and non-residential - in November, the highest since September, 2008, he said.
Felix Delbruck, Westpac senior economist, said commercial work was a huge contributor to the earthquake repair work.
"The Canterbury rebuild is proceeding even more rapidly in the non-residential space. Non-residential consents, including alterations and additions, rose further to $420 million in November. Of those, $125 million were issued in Canterbury region, a further increase from the $118 million seen in October."
ASB economist Christina Leung noted a fall in Auckland residential consents from 458 in September to 433 in October and 432 in November.
"There had been signs stronger housing market activity in the region was beginning to flow through to higher house building demand earlier last year, but this recovery looks to be slowing. With the supply of new housing remaining low, the Auckland housing market is likely to remain very tight over the coming year," she said.
The pickup in on-residential construction followed weakness throughout the year.
"Encouragingly, consents issued for office buildings and retail outlets are recovering, suggesting businesses are starting to feel more confident towards building investment. This is in line with business confidence results showing an increase in commercial construction expectations."