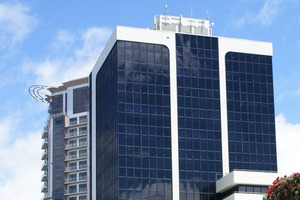 Robt Jones Holdings Ltd (RJH) is now the largest owner of office property in Takapuna, after buying the AIA Building at 5-7 Byron Ave.
The 17-level, 9485sq m office tower is primarily occupied by the Inland Revenue Department, but also houses both AIA and North Shore law firm Simpson Western.
Andrew Reed of Colliers International's corporate and institutional sales team, who brokered the sale with colleague John Goddard, says the AIA Building sale is the latest in a series of significant property transactions in Takapuna. "Takapuna has attracted a lot of property investment appetite this year, with several high-profile building sales including Westfield Shore City, Auckland Council's North Shore office building and the Nielsen Centre on Hurstmere Rd, which was also purchased by RJH," Reed says.
David Rankin, investment manager at RJH, says the company is very happy with the direction Takapuna is taking.
"This is our third Takapuna office building and reflects our very positive view of the location. Auckland Council's development of parks and streetscapes, plus the activity of developers, all make Takapuna the most attractive work location outside of the CBD.
"We will continue to acquire Takapuna buildings as suitable opportunities arise," Rankin says.
Along with the AIA Building, RJH owns two other high-profile office buildings in Takapuna: the recently purchased Nielsen Centre at 129 Hurstmere Rd, a five-level building with tenants, including AC Nielsen, AFT Pharmaceuticals, Golders and Colliers International; and the Takapuna Finance Centre at 159 Hurstmere Rd, a 5000sq m building housing Craigs Investment Partners, Computershare Registry Ltd and Phonak NZ Ltd.
RJH, formed in 1961, owns around $1 billion of commercial and industrial property in Auckland, Wellington and Sydney, leased to almost 500 commercial and government tenants.
Jimmy O'Brien, general manager of Colliers International's North Shore office, says that with $440 million having been earmarked by Auckland Council for priority funding for the Takapuna business district, developers have been given the confidence to commit to projects which will enhance the area for residents and workers.
"Substantial mixed-use development projects incorporating apartments, offices, specialty retail, bars and restaurants are currently in progress.
"This broad range of projects will enhance Takapuna as a great place to live and work."
O'Brien says positive flow-on effects on the property market from this development activity had already begun, with several buildings being upgraded in order to remain competitive as the business district undergoes revitalisation.