Avondale outlets for auction include The Coffee Club, Bruce Lee Sushi, Kiwi Roast and a foodmart store.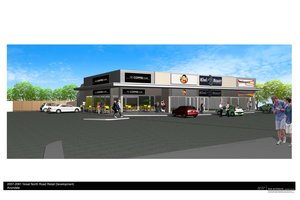 Four food outlets in a new retail convenience centre nearing completion in Avondale in West Auckland will go up for auction individually on December 5 with new eight to 10-year leases in place for occupants.
On a high profile 2178sq m site at 2057 Great North Rd with frontage also on Wingate St, the Avondale Convenience Centre is anchored by a 253sq m Carl's Jr drive-through restaurant which is part of a major expansion into New Zealand by the giant American-headquartered fast food chain.
The building near completion has been sold with a 12 year lease through James Chan and Ed Donald of Bayleys Auckland.
"While the Carl's Jr premises are not part of the new auction offering, its business will contribute to a high volume of traffic coming on to the site," Chan says.
Chan and Donald are now marketing the balance of the development in a separate 439sq m building currently under construction, which is scheduled for completion in December.
It includes premises occupied by The Coffee Club, Bruce Lee Sushi, Kiwi Roast and a foodmart.
Chan says the net annual rental range of $28,000 to $64,000, with built-in adjustments based on the increase in the Consumer Price Index (CPI) will make the units popular with smaller investors.
Donald says the building is being constructed to a high standard with tilt slab concrete walls, good quality commercial grade joinery and shop fronts and Colorsteel longrun roofing.
There will be a large transformer on site plus gas reticulation.
The site will include a sealed and kerbed carpark, fencing on the side boundaries as well as attractive landscaping
The property is being developed by Aubrey Edward Group, which is undertaking a similar type of development on Pakuranga Highway
The largest unit for auction is the 160sq m Coffee Club outlet, which is positioned on the southeastern corner of the building.
Its 10-year lease from December will produce initial net annual rental income of $64,000, with two-yearly rent reviews to CPI.
A large roofed veranda will shelter outdoor seating,and there's a significant amount of seating inside, which Chan says will be fitted out to The Coffee Club's stylish specifications.
Founded as a single store in Australia in the late 1980s, The Coffee Club now employs more than 6000 people and serves more than 40 million coffees a year in more than 300 cafes across Australasia and in Thailand, New Caledonia, China and Egypt.
It began serving coffee and food in New Zealand in 2006 and now has close to 40 outlets from Auckland to Queenstown, with four more expected to open before the end of this year and another nine scheduled to open in the first half of next year.
Last year, The Coffee Club won the Food & Beverage Best Franchise System of the Year Award in the New Zealand Franchise Awards.
At the opposite end of the building, a 119sq m unit will be home to the Wingate Foodmart which will take an eight-year lease, with three-yearly rent reviews to CPI plus 1 per cent.
It will produce net initial annual rental income of $47,600. Ed Donald says the Foodmart tenant is a well established superette operator in the area looking to expand.
In the middle of the centre are two smaller 80sq m units. One will be occupied by Bruce Lee Sushi, which is adding to four stores it has elsewhere in Auckland, and will take a nine year lease at an initial net annual rental income of $28,000.
The other will be home to a Kiwi Roast takeaway outlet, which will pay a $30,000 per annum starting rental plus opex (operating expenses) on its eight-year lease. This will be operated by Kiwi Roast founder Tony Stankovich and will be the 10th Kiwi Roast store he has opened.
"The property is close to the very busy Avondale roundabout and is on the main arterial route between Avondale and New Lynn, which means on average there are over 23,000 cars per day drive passed the site," says Donald.
"This means the centre will draw customers from drop-in traffic resulting from the high volume of cars passing the site as well as the substantial surrounding residential catchment."
Within a 3km radius of the site, there is a total population of close to 75,000 living in more than 26,500 homes, with an average household income of $51,000.
The Forsgren Group has a licence to operate eight Carl's Jr stores in Auckland, including the Avondale one, while NZX-listed Restaurant Brands has secured the rights to establish the rest of the Carl's Jr premises throughout New Zealand.
Restaurant Brands chief executive Russel Creedy has been quoted as saying the company would like as many as 60 restaurants nationwide and that Carl's Jr sales could eventually exceed those of its main brand, KFC.