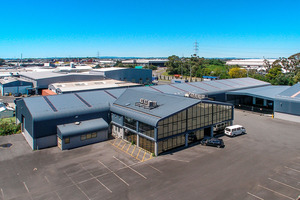 Two industrial properties on separate titles in Onehunga, Auckland, have been placed on the market for sale by auction, providing an opportunity for a business to buy its own premises.
Units B and C, 83 Captain Springs Rd, Auckland, are being marketed by Andrew Hooper, Hamish West and Greg Goldfinch of Colliers International on behalf of Direct Property Fund. They are scheduled to go under the hammer at 11am on November 28 at 151 Queen St, Auckland, unless they are sold beforehand.
The properties, which make up 5090sq m of floor area combined, are for sale together or separately and provide short-term holding income.
"With renewed interest from small to medium-sized industrial businesses in buying their own premises, these properties are ideal for owner occupiers to secure their future," says Hooper.
The low interest rates of the past couple of years have prompted businesses to investigate owning their premises instead of leasing them, he says.
"These properties are solid, hard working industrial buildings that will suit a variety of uses," says Hooper. "Each building offers clear-span warehousing with multiple roller doors, making them very functional and suitable for light manufacturing, warehousing and many other industrial uses."
Unit B is a 2749sq m office and warehouse building fronting on to Captain Springs Rd. The building was constructed in 1980 and provides a 1994sq m, 7m stud warehouse as well as office and amenity areas. It also features a large yard and ample car parking.
Unit C is 2341sq m in size and is positioned to the rear of the site. It provides 1738sq m of warehousing with a seven metre stud, offices and amenities and also features a large yard and car parking.
A shared canopy joins both buildings.
West says there are several benefits businesses can realise through purchasing their own premises. "They include the ability to modify the property to suit particular business needs, and ownership of a capital asset which could be borrowed against to fund future business growth," he says.
While the previous target buyer for this type of stock would have been a developer, the trend towards owner-occupation among small to medium-sized industrial businesses means strong interest is also expected from companies looking to make their first move into owning premises.
John Bowring, Colliers International's national auction manager, says that with limited availability of similar stock, an auction campaign would enable the market prices of the properties to be set in a transparent environment.
West says the property is conveniently situated between the southern and south-western motorways. "The Onehunga industrial area has benefited from the extension of the south western motorway, and occupiers in the area enjoy easy transport accessibility to the airport and Manukau without the congestion the southern motorway can suffer from."
The Waterview connection, which will extend the south-western motorway to West Auckland and the North Shore, will also benefit the area, he says.