A fully leased medical centre, vacant legal premises and an industrial building are all up for sale.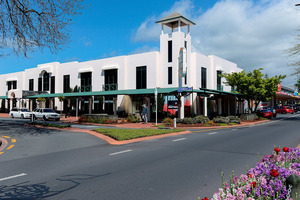 Rotorua's largest privately owned medical centre, set up by local doctors to service the after hours needs of the community, is for sale as a fully leased investment property.
The Lakes Care Medical Centre sits on a prime corner 2945sq m central business district site at 1155 Tutanekai St and is producing total net annual rental income in excess of $400,000. The facility incorporates Rotorua's only after-hours general practitioner service. The tenants include some of the original medical practitioners as well as an after-hours pharmacy, a psychologist, Bay Audiology and a radiology practice.
The medical centre is one of three Rotorua properties for sale in Bayleys latest Total Property portfolio and is being marketed by Mark Slade and Mark Rendell of Bayleys Rotorua.
The landmark, architecturally designed building was completed in 1993 and extended in 2005/2006. Slade says the property was designed to complement the city's original architecture, with a modern take on the Tourism Rotorua building and its landmark clock tower
The complex comprises 1988sq m of lettable area made up of 12 medical and professional suites. Two of these are vacant, but Slade says their rental will be guaranteed by the vendor up until mid-2014. In the meantime, both Suite 5, offering 61sq m, and Suite 7 comprising, 186sq m, are available for lease.
The occupied tenancies are mostly on six-year lease terms with varying commencement dates and final renewal expiries running through until 2029.
"It's prime CBD real estate in a high-profile corner position with 44 on-site car parks and it's the first time the property has been put up for sale," says Slade.
"The building is modern and well maintained with good street appeal and spacious foyers and common areas. There is also room for further development."
The property will go up for auction at 1pm on Thursday, December 6 in the BNZ Partners Business Centre at 1202-1212 Amohau St in Rotorua.
Also going under the hammer at the same auction is the substantial former premises of legal firm East Brewster on the corner of Arawa St and Amohia St.
The property is being marketed by Rendell, who says the 633sq m architecturally designed building was constructed for the legal firm in the 1990s which could be reconfigured to accommodate two tenancies.
It is being sold with vacant possession but the market rental rate for the property is estimated at about $120,000. The building sits on a 1430sq m site at 1256 Arawa St with 12 on-site car parks and Rendell says it would suit either an owner-occupier wanting to take up all the space, or perhaps someone wanting to occupy some of it and lease the rest up.
"This is a very high-profile property that has a majestic and protected oak tree on the site that is believed to have been planted in the 1880s."
The third property for sale by negotiation, which is also being marketed by Rendell, is the substantial premises in Eastgate Business Park of Combined Road Traffic Services Limited which it is selling on a lease-back arrangement with an initial lease term of five years and four five-year rights of renewal.
The property at 20 Katoro Drive in the popular business park, opposite Rotorua airport, will produce initial net annual rental income of $115,000.
Combined Road Traffic Services has contracts in place with the New Zealand Transport Agency and local councils for roading projects.
Constructed in 2008 on a 3244sq m site, the building comprises a gross floor area of 487sq m plus a 30sq m canopy. It includes high-quality office space and a substantial, high stud, modern north-facing workshop with three full height roller doors and a special paint storage area.
It also has a large boundary fence, extensive yard area and ample parking for staff.