The ASB bank building in the Westgate shopping centre is one of four offerings from Bayleys.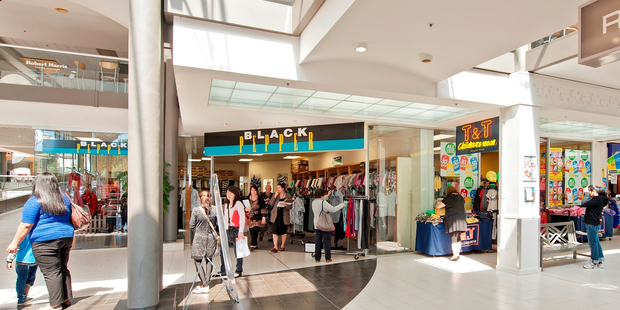 An ASB bank outlet in the Westgate Shopping Centre and three shops in Newmarket's Rialto Centre are among a range of retail investment offerings featuring in Bayleys final Total Property auction for the year.
The ASB premises is in a 334sq m two-level standalone building on 909sq m of land in the Westgate Shopping Centre in West Auckland and comes with a six year lease to the bank from February 2011, with a further six year right of renewal.
The property, which is currently producing net annual rental income of $181,680 and is being marketed by James Chan of Bayleys Auckland, will go up for sale on December 5 in Bayleys' central Auckland auction rooms.
"This is an excellent opportunity to purchase a blue chip bank investment property located in a modern, low maintenance building in an established regional shopping centre," says Chan. He says the complex incorporates a drive-through banking facility and there are also a large number of parking spaces surrounding the building.
Westgate Shopping Centre occupies almost 12 hectares of land adjacent to the State Highway 16, Hobsonville interchange and has a high level of exposure to the North-Western motorway.
Chan says Westgate is one of New Zealand's largest "open air" shopping centres and offers a cluster of retail trade activity, leisure facilities and food and beverage venues in a streetscape environment. The centre has customer parking for over 1450 cars with the motorway providing easy access to and from the centre.
Anchor tenants include Countdown, Farmers and The Warehouse, and there is also a wide range of other national and international retailers including the other major trading banks, Paper Plus, Robert Harris Coffee, United Travel, Stirling Sports, Pumpkin Patch, Michael Hill Jewellers and Postie Plus.
"Westgate Shopping Centre is located in an area that has experienced expansive growth, both economically and demographically, over the past decade and is surrounded by a significant residential catchment," says Chan. This will get a further major boost from the continuing redevelopment of Hobsonville Airbase into what will be known as Hobsonville Point, within 10 minutes' drive of Westgate Shopping Centre. The community, planned to be developed over 25 years, will include 3000 residences as well as schools and early childhood education centres. Chan says there are also substantial areas of former rural land close to Westgate that have been earmarked for major business development in the future.
Chan also has three retail units up for auction on December 6 in the Rialto Centre, a shopping and cinema complex located between Broadway and Osborne St in the heart of the Newmarket retail precinct. Two of the units, occupied by The Poi Room and Alluvium Jewellery, are located on Osborne Street, while a unit occupied by Nandos restaurant is on Level 2.
"The net annual rentals ranging from $51,594 to $80,399 put them within an affordable price bracket for smaller to medium-sized investors," Chan says.
Osborne St is a boutique retail strip offering a pedestrian lane shopping experience. The Poi Room, located at 17 Osborne St, specialises in New Zealand art and design works, selling paintings and prints, jewellery, ceramics, homewares, glass and sculptural pieces from emerging and established New Zealand artists.
Next door, is manufacturing jeweller Alluvium Jewellery, the only specialist jewellery retailer within the Rialto Centre, and a member of the New York Diamond Trading Network. Its lease, running for six years from November 2010, has fixed annual rental adjustments based on the increase in the Consumer Price Index (CPI) plus 2.5 per cent.
Upstairs, Nandos restaurant occupies 193sq m of space in the Foodcourt on a 12 year lease running until 2019 which also has annual rental adjustments based on CPI plus two per cent.
Chan says the food court is strategically positioned next to the busy Rialto Cinema complex.
"It has a pleasant ambience with plenty of seating and a children's play area and draws its clientele from cinema goers, shoppers visiting the popular Newmarket precinct and from a substantial workforce based in office buildings in Newmarket."
The Rialto Centre has access from both Broadway, Newmarket's main street, and Osborne St, and has 25 fashion, homeware and lifestyle stores, as well as the seven-screen cinema complex and the foodcourt. Chan says the centre's main entrance is strongly positioned at the cross roads of two major arterials, Broadway and Khyber Pass, and is located on the sought-after western side of Broadway. The area is home to many of the larger, longer-term tenants in Newmarket and has the heaviest foot traffic.
Chan is also joining forces with Quinn Ngo of Bayleys Auckland in the auctioning on December 6 of twin shops in one unit located in a high profile corner position within the recently refurbished Royal Oak Shopping Centre in Royal Oak. The 188sq m unit is split into two tenancies producing total annual rental income of $72,500 and will be offered for sale as one lot.
It is occupied by Australian-based clothing chain Black Peppers Fashion and T&T Childrenswear, a national retailer with over 40 outlets around New Zealand. T&T has a six-year lease from February 2012 with annual rent increases of 2.5 per cent.