There's been considerable pre-auction interest in the high-profile fast-food outlet on the North Shore.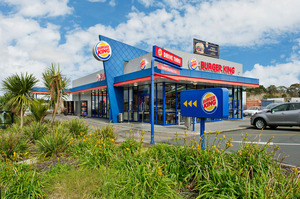 Three North Shore retail outlets, including two occupied by food industry tenants, will go under the hammer later this month as part of Bayleys' greater Auckland portfolio.
The largest of the three, a Burger King outlet in a high-profile location at 112 Apollo Drive in Albany has attracted considerable pre-auction interest, says Brian Caldwell, of Bayleys North Shore Commercial, who is marketing the property in conjunction with Daryl Devereux.
Caldwell says food outlets with well-known local or international tenants are popular investments and are not exposed to the internet shopping that is affecting some areas of the retail market.
He says the Burger King outlet, which opened five years ago, is the type of investment property that is typically tightly held on the North Shore and is only up for sale because the vendor wants to move to another project.
The property was purpose built in 2007 for the fast-food chain with a sit-down restaurant and 24-hour drive-through and associated parking areas on a 2224sq m site in the North Harbour industrial estate.
The property is leased to Antares Restaurant Group which holds the exclusive franchise development rights for the Burger King brand in New Zealand and operates 75 Burger King restaurants throughout the country. The lease is for an initial 10-year period from April 2007 but with four rights of renewal, of five years each, the final expiry date could be March 2037 if they are all exercised.
The property is producing a net annual rental income of $146,500 with the tenant paying all outgoings.
Constructed mainly of glass and concrete with large picture windows, the Burger King restaurant is accessed off Apollo Drive, but being less than 50m from the Rosedale Rd roundabout it is easily seen from both roads. "It is strategically located next to a BP service station and opposite the Apollo Medical Centre between the motorway and East Coast Bays," says Caldwell.
"This is an immaculately presented property situated in a busy, expanding location and is ideal for passive investors looking for a property that takes care of itself. It also has a broad-based commercial zoning providing maximum flexibility for future uses."
It will go under the hammer on October 31 in Bayleys' central Auckland auction rooms.
Also up for auction on the same day is a roadfront unit occupied by a bakery and cafe business in Ellice Rd in the Wairau Valley.
Terry Kim, of Bayleys North Shore Commercial, who is marketing the property in conjunction with Ranjan Unka, says it is in a very modern, good quality building comprising 35 units built five years ago by well-known North Shore developer Kea Property Group.
The Ellice Cafe faces the road and has outdoor as well as indoor seating and comes with 13 customer parking spaces.
The cafe is 118sq m but the outside courtyard area adds another 22sq m of which the cafe has exclusive use.
Kim says there is limited competition from other food outlets of the same quality in the immediate area.
Ellice Cafe has a 10-year right of occupation from June 2008, with three rights of renewal that would take the final lease expiry date through to 2027. It produces net annual rental income of $56,000.
In Takapuna, an 85sq m ground-floor shop in the 31-level Sentinel Apartments building is up for auction on October 31.
Unit 19 at 3 Northcroft St is being marketed by Bayleys Auckland's Quinn Ngo and Nicolas Ching in conjunction with Terry Kim.
The unit is leased by a drycleaning and laundromat business which services apartment owners and surrounding residents and businesses.
The Ocean Drycleaners has a six-year lease from February 2010, with three six-year rights of renewal, and is producing a annual rental income of $28,000.
The lease includes six undercover parking spaces.
Ngo says the unit has a wide frontage on to Northcroft St, is well positioned in Takapuna's central business district precinct, and is close to the intersection with Lake Rd, one of Takapuna's main retail streets.
Developed by Cornerstone Group in 2009, the towering apartment complex is a landmark building in Takapuna, surrounded by commercial buildings.
It is a short walk to the Shore City shopping mall.