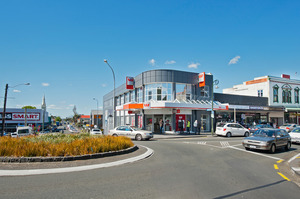 Westpac Bank's modern Onehunga branch building, adjacent to the Dress Smart factory shop outlet complex, is among a wide range of commercial and industrial properties which will go up for auction on October 31 as part of Bayleys' latest Greater Auckland portfolio.
Bayleys' commercial and industrial auctioneer Richard Valintine says the portfolio represents the largest selection of commercial properties put up for sale at one auction this year, with a wide selection of retail, office and industrial properties on offer.
"The bulk of the offerings are tenanted investments suitable for passive investors but there are also some vacant and semi-vacant premises suitable for an owner-occupier or investors looking for added-value opportunities."
Westpac's Onehunga branch is a two-storey, 595 sq m architecturally designed building on the 329 sq m corner site of Onehunga Mall and Church St.
Producing net annual rental income of $172,889, it was built in the 1990s and is for sale as a fully leased investment opportunity through James Chan and Quinn Ngo, of Bayleys Auckland.
Westpac's current lease began in 2002 and last year it exercised the second of three three-year rights of renewal. The two-level modern building provides ground floor banking chambers along with first floor offices and amenities, plus nine secure basement parking spaces accessed from the rear of the building and with lifts connecting with the two floors above.
"The property is located right in the heart of Onehunga on a high profile freehold site with great exposure to a busy roundabout, and this alone should appeal to passive investors," says Chan. "It's one of the suburb's landmark buildings and just across the street is the Dress Mart shopping mall.
"This type of top shelf investment property, with a strong tenant like Westpac, is in very limited supply in the current market, with investors for the most part holding on to them given that the commercial property sector is in the early stages of a recovery."