Company happy despite the site being on council's city rail loop master plan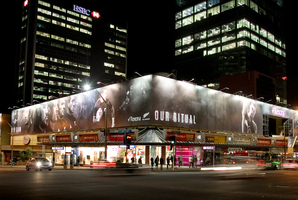 AMP NZ Office says it has agreed to buy the Westfield Downtown Shopping Centre, despite the uncertainty surrounding the site should the Auckland Council go ahead with plans to build the city rail link underneath it.
The company, changing its name to Precinct Properties New Zealand, will pay $90 million to Westfield Retail Trust and Westfield Group.
AMP Office supported the council's city centre master plan, chief executive Scott Pritchard saying the council could compulsorily acquire the land under the Public Works Act if necessary.
"It's a great site for an office tower, but we don't see great demand for [one] in the next four or five years anyway, so the potential uncertainty at the moment isn't a concern."
He said the company had taken a long-term view. "We haven't purchased this asset because we think it's going to go well as a shopping centre over the next three years."
The company was more focused on its potential redevelopment in the next six to 10 years.
Shane Solly, portfolio manager at Mint Asset Management, which has a holding in AMP NZ Office, said the possibility of the council putting in rail lines would have significant impact on what AMP NZ office could do with the site, but the price was fair. "They've bought well and as invest-ors we're happy with the outcome."
The property has a weighted average lease term of 2.9 years, the company said, and its acquisition would boost annualised earnings by about 3 per cent. AMP NZ Office has forecast a full-year 2013 dividend of 5.12c a share, up 1.6 per cent from 2012.
Westfield Downtown is next to AMP Office's PwC Tower, Zurich House and AMP Centre. The purchase will be funded through bank debt as AMP Office has a new $107 million tranche expiring in September 2017 and a $53 million tranche expiring in July 2015.
The new facilities increase the total amount to $535 million from $475 million and will lift AMP Office's gearing to 31.5 per cent from 27 per cent at June 30.
Opened in 1975, the centre has a land area of about 6500sq m and existing resource consent for a 71,000sq m mixed-use development.
AMP Office shares last traded at 98c, not far off their 87c to $1.00 12-month trading range.
- APNZ