Size and scale of three historic buildings offer limitless opportunities.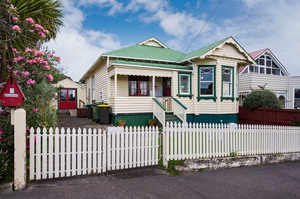 A restored early 20th century character villa occupied by the Christopher Robin Childcare Centre in the popular Auckland city fringe suburb of Grey Lynn will be auctioned as a fully leased investment property unless it sells before September 26 by private treaty.
The property at 4 Sherwood Avenue has been a boutique childcare centre for more than 25 years, catering for up to 26 children, and the value of the site itself has grown substantially since it was first established in 1987, says Bayleys' agent Mark Pittaway who is marketing it with Rachael Pittaway, of Bayleys Auckland office.
"The centre has always been a popular facility for locals over the years with most people in the area being aware of it, being just off the main Grey Lynn arterial route of Surrey Crescent," says Rachael Pittaway. "The business is very well established and the villa it occupies is also well maintained."
The property is producing net annual rental income of $63,638 and the Christopher Robin business has a six-year lease from 2008, with two rights to renew totaling a further 12 years, giving a final expiry date if exercised of 2026.
Mark Pittaway says the property has potential rental growth and some of this has been written into the current lease with rent reviews every two years guaranteeing a rental rise to the Consumer Price Index or the market, which ever is greater.
The childcare centre comprises the villa of about 144sq m, which has been converted into the main teaching facility with rooms for sleeping and a large converted garage for additional play at the rear.
The 524sq m site has a large outdoor playground for the children at the back of the house.
There is ample room for parking on the road and a driveway on the eastern side leads to the garage dwelling at rear and also veers left in front of the main building to a parking area.
Rachael Pittaway says childcare centres generically have proved popular as investment properties because they usually fall into the "affordable" price bracket and because the cost of set up means they rarely move premises.
Mark Pittaway says the underlying value lies in the surrounding residential area where values have risen hugely since the centre was established. "Grey Lynn is a very sought-after suburb these days because it is just 3km from the Auckland CBD and the option is always there for the property to revert back to a residential dwelling should the tenant decide not to renew their lease."