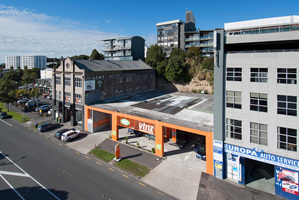 Resource consent for The Strand building offers opportunity for an upwardly mobile buyer.
For a developer looking for a project in a location which is growing in popularity among businesses... this site offers tremendous potential. The attractively priced sale of a Vehicle Testing New Zealand building at 65-71 The Strand, Parnell, is being marketed as an ideal opportunity for developers or owner-occupiers to capitalise on a buyers' market.
The 1100sq m building has approved resource consent in place for 1650sq m of commercial space to be added, meaning that another four extra floors could be constructed above the vehicle testing station.
The property is offered for sale by expressions of interest through Jonathan Lynch and Peter Kermode of Colliers International, closing at 4 pm on September 13.
"This is an excellent opportunity to secure a prime position on the Auckland city fringe," says Lynch.
"For a developer looking for a project in a location which is growing in popularity among businesses, or an owner occupier seeking new custom-built premises, this site offers tremendous potential to create a high-quality commercial development."
The 1405sq m site is on a 21-year, perpetually renewable ground lease. VTNZ holds a 21-year lease dating from September 2006 and paying $107,272 in annual net rental.
"What makes this an especially compelling opportunity is the fact that with VTNZ's long lease to the ground floor, the development space above can effectively be treated as bare freehold development land," says Kermode.
"Outgoings from the VTNZ tenancy cover around a third of the ground rent, with the rental income covering almost all of the remainder.
"We believe this is by far the best-value development site in the 3000sq m-plus category in the Parnell area."
Rentals of upwards of $250 per square metre could be "easily achievable" through developing high-quality, modern office accommodation above the vehicle testing station, Lynch says.
"There is great potential for significant future income through developing the upper floors.
"The existing single-floor structure was originally built to take additional floors of commercial space, with original plans for further development on the site having been put on hold."
Subject to the relevant consents being applied for and approved, there is also the potential for additional development on land to the rear of the site, opening up a wide range of possible uses.
"This is essentially an opportunity for businesses to commit to a state of the art office or other permitted development, at a time when there is much uncertainty around the seismic strength of existing buildings, and the obligations of businesses to their staff around building strength," he says.
The property, which has dual street frontage to The Strand and Augustus Terrace, also has on-site car parks and harbour views.
Kermode says the site is in the northern part of Parnell, on land that once comprised an industrial area around the port and railway station, and provides exposure to over 20,000 passing vehicles a day.
"The area is currently undergoing major land use changes with designated plan modifications for higher intensity, with light industrial use giving way to commercial, residential and showroom developments.
"The locality has recently proved particularly attractive to media-related businesses, with major tenants including Saatchi & Saatchi and media planning and buying agency Carat New Zealand occupying premises in the immediate vicinity of the property."
A number of nearby apartment complexes mean the area is also regarded as a mixed-use locality, with the advantages of good motorway access, close proximity to the CBD and Newmarket and within walking distance of Parnell's main retail and cafe strip, says Lynch.
"With the site's northeasterly aspect providing the prospect of sun-filled interiors, and easy access to central Parnell, this is a prime opportunity for businesses to create A grade office space."