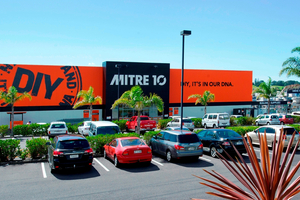 Competition for space driving increase in sales and lease activity over same period last year.
A noticeable improvement this year in North Shore commercial and industrial sales, and leasing activity, accompanied by a firming in rentals and a lengthening of leases, has been revealed by an analysis of the market undertaken by Bayleys North Shore Commercial.
Transactions negotiated by Bayleys North Shore Commercial for the first seven months of 2012 were up 13.4 per cent on the same period last year to a total of 186 sales and leases, says director Nick Howe-Smith. The total industrial, office and retail floor area leased by the agency soared by 94 per cent in the same period to 53,029 sq m, with industrial space accounting for over half of that.
Substantial North Shore industrial leasing transactions concluded by Bayleys in Albany this year have included a 3832sq m building on Albany Highway for $458,000 per annum negotiated by Laurie Burt earlier this month.
Burt also leased 3257sq m of industrial space in Canaveral Drive for $438,000 per annum and 1012sq m in Arrenway Drive for $130,000; while Matt Mimmack and Alex Strever leased 1945sq m of industrial and office space in Ride Way for $230,000 per annum.
In the Wairau Valley, Trevor Duffin negotiated the lease of a 2072sq m industrial property with 26 car parks in View Rd, for $170,000 per annum.
Howe-Smith says the industrial sector has been leading the property recovery on the Shore with the balance of power in the leasing market definitely shifting from tenants towards landlords.
"We are now receiving multiple offers on numerous properties - with anything from two to four parties competing to secure the same premises. This has pushed face rentals up, with landlords achieving asking rentals in more instances, and conversely incentive levels have come back to the point where they have all but disappeared for top quality offerings. As a result, we would estimate that effective rentals for Grade A and B industrial space have probably recovered by 10 to 15 per cent from the bottom of the market a few years ago."
Howe-Smith says the Albany industrial precinct does not have the same issue with dated, secondary industrial stock as some other precincts. Most premises have been built within the last 15 years and offer clear span, higher stud warehouse space which meets seismic codes.
In Albany, the vacancy rate has tightened from 8.35 per cent in early 2011 to a healthy 6.6 per cent according to Bayleys Research's latest survey of the precinct, and is continuing to fall.
Howe-Smith says this has been the result of a combination of increased tenant activity, strong owner-occupier demand and limited development activity other than new design-builds constructed for committed occupants plus a few refurbishments and break ups of existing buildings.
"We have seen very little in the way of new speculative industrial development, which pushed vacancy rates into double figures in the mid 2000s, in the last five years or so. We have also sold a phenomenal number of empty buildings in Albany to owner-occupiers over the past few years and they are competing with tenants for space. The owner-occupier market is being driven by the low interest environment which means the cost of servicing the borrowing costs on buying can be as cheap - if not cheaper - than renting."
He says most industrial inquiry is coming from relocating North Shore businesses either in expansion or consolidation mode, but there has also been interest from other parts of Auckland, from Whangarei and from businesses relocating out of Christchurch. There has also been a substantial lease to an Australian publishing company wanting to take advantage of more attractive labour rates to establish part of their printing and distribution operations here.
Increased competition has also resulted in a lengthening of leases and an end to the "short-termism" that prevailed as tenants became more cautious post global financial crisis, says Howe-Smith. "Whereas previously tenants might have only been willing to commit to say a two-year lease, they now have to go to at least four years and increasingly, six years, to secure quality premises."
He says there has also been renewed activity and some increase in rentals in the retail leasing market, with a number of smaller retail convenience centres being developed in the Albany area.
An example of this is an 11-unit retail development undertaken by Northbridge Properties, and marketed by Damian Stephen of Bayleys North Shore Commercial, in which nine units sold off the plans to a combination of owner-occupiers and investors, and two were leased.
Bayleys is also representing Kea Developments in its offering of an 11-unit retail development at 329 Albany Highway, with completion scheduled for early 2013.
Howe-Smith says the office sector has been the last to recover from the market downturn although there are some signs of a pick up in this sector as well and some clawing back in incentives, albeit not to the same extent as for industrial and retail property.
"There is still an oversupply of smaller to medium-sized floor areas although larger, contiguous office floors are harder to find," he says. "There is unlikely to be any significant increase in rentals in this sector of the market until incentives cease to become integral to concluding a leasing transaction."
Significant office leasing transactions that Bayleys North Shore Commercial has been involved in over the last eight months include Caleb Belling's leasing of an 872sq m floor at the Smales Farm Business Park in Takapuna for $278,000 per annum and the leasing by Christina Heaven of 1213sq m plus 21 car parks in Hurstmere Road, Takapuna for $320,788 per annum.
Heaven was also last year involved in the leasing of 2121sq m plus 48 car parks in another building in Hurstmere Rd for $578,860 per annum.
Howe-Smith says there has also been a lift in sales activity in the market, with Bayleys North Shore Commercial sales transactions and sales values from January to July up 20.75 per cent and 21.5 per cent respectively on the same period last year.
"Much of the increase has been driven by a buoyant owner occupier market. There is also very strong demand for investment property and our inquiry level for well located and tenanted investment property up to $2 million has almost doubled in the past six months. But this sector of the market continues to be constrained by limited supply."
He says retail properties continue to be popular with investors with recent sales including a Mitre 10 store in Whangaparaoa which sold for $4,625,000 and a retail convenience centre in Browns Bay for $6,450,000.