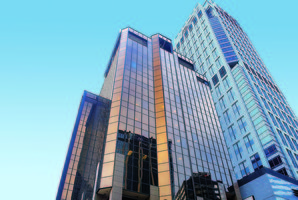 Barfoot & Thompson to spend further $6m refitting premises for up to 100 staff
Auckland's largest real estate agency, Barfoot & Thompson, paid just over $3.5 million for the lower seven-levels of the high-rise Auckland Club building on Shortland St and is now spending $6 million preparing to move in.
Peter Thompson, managing director, said 80 to 100 staff would soon leave Chancery premises on Kitchener St for the 1980s building at 34 Shortland St.
Ownership of floors in the 17-level block - previously called the Dorchester Tower - is divided into various unit and strata titles. Barfoot bought the lower levels but not complete floors because other businesses occupy and own these areas.
The vendor was the Auckland Club, a 157-year-old organisation which shut in 2010 and was Auckland's longest surviving men's club. Some members have now joined the Northern Club.
Thompson said the $6 million was being spent on some structural aspects because an extra floor was being added into the club area which had high ceilings but it also covered the cost of all furniture and fittings.
An auction room is being created at street level to take up to 300 people and it can be split so more auctions can be held at the 1300-agent firm, which claims to sell one in every three Auckland house. The costs were also due to high-tech equipment being fitted into the premises, particularly in the public auction areas, Thompson said.
"We plan to move to Shortland St at the end of October. We are moving simply because we have purchased the new premises," he said, not because Chancery has suffered from weathertightness issues.
"In fact, our commercial team are likely to remain here at Chancery," Thompson said. Barfoot staff would be spread across three CBD sites: Shortland St, the Chancery and at the original head office in the old two-level building on the corner of Commerce St and Fort St.
"Originally, we were planning to move back to the corner of Fort & Commerce St, demolish that existing building and put up a purpose-built building. However, due to the economics of it, it was not feasible and the opportunity of the Auckland Club came up. As a company we like to own our premises and that is what we are doing with this move," Thompson said.
The agency investigated building a tower of up to 30 levels on the Commerce/Fort St corner on the site of the building which it bought in 1992 for $1.5 million.
Chancery premises were leased, now owned, Thompson said, and the business had been there for 11 years.
Extensive weathertightness repairs are planned at Chancery, owned by a group of investors and built by Brookfield Multiplex.
The Chancery body corporate appointed Arrow Remediate to do the work, including improvements to the open-air courtyard, repainting of the buildings and work on the facade of one of the three buildings.
Dennis Dowling, Arrow Remediate's managing director, said he had worked with Ignite architects on many options to improve the courtyard and create an inviting space.
NEW & OLD DIGS
Barfoot & Thompson:
* Management going to 34 Shortland St tower.
* Commercial team staying at Chancery, Kitchener St.
* Sales office staying corner Fort St/Commerce St.
Source: Barfoot & Thompson