The recently upgraded listed building houses the award-winning Hotel DeBrett and a number of high-profile retailers and cafes have leases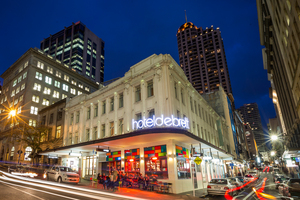 A historic Auckland city landmark building incorporating Hotel DeBrett and several well-known fashion and entertainment businesses is for sale.
The multiple-award winning freehold property on the corner of High and Shortland Sts is being marketed by John Schellekens and Warren Hutt of CBRE and Jason Seymour and John Green of Colliers International. The deadline private treaty closes at 4pm on August 30 unless it is sold before that date.
Hutt says the sale represents a significant opportunity to purchase a well-known Auckland CBD building with secure tenants in a high-profile location.
"This building is an investor's dream with status, heritage, long-term tenants, diversified income, rental growth and a spectacular interior that draws people from all over the country. We are expecting substantial interest in this building," Hutt says.
Seymour says 2 High St, which has a total net lettable area of 2866 sq m, is classified as a Category II building by the New Zealand Historic Places Trust.
In 2009/2010, the building won the prestigious New Zealand Institute of Architects' Heritage Award.
It was fully refurbished to 70 per cent of current earthquake standards in 2008 with its status recently re-confirmed in a structural engineer's report.
"The current four-storey building with basement generates net rent of $1.22 million from its nine retail spaces and a 25-room boutique hotel operation, including a 50-seat restaurant and two bars," Seymour says.
The building's tenancies extend for a weighted average lease term of 8.3 years.
Two-thirds of the rent roll is on 10-year leases with fixed 9 per cent rent increases reviewed every three years. Ninety per cent of the rent roll is on the equivalent of annual 3 per cent or CPI increases.
"The covenants and longevity of the building's income stream, combined with scheduled rent increases, create an extremely attractive CBD investment," says Seymour.
"We see this being a prestigious addition to the investment portfolio of a high net worth investor or a syndicate. Properties of this calibre in the heart of the CBD rarely stay on the market for long, particularly with a diversified income that ensures about 50 per cent income from retail tenants and around 50 per cent from the hotel tenant."
Schellekens says the property is fully leased with nine ground-floor tenancies in the corner site that has traditionally been popular with boutique retailers. The hotel occupies the remainder of the space.
"Barkers, Crane Brothers, Ruby, 3 Wise Men, Meg's Tailoring and Kapiti are just a few of the notable names contributing to the building's $1.2 million total contract rent," he says.
"Murray Crane, owner and founder of menswear tailors Crane Brothers, and a tenant since 1999, recently signed a new 10-year lease for the flagship store with a right of renewal for a further 10 years through to 2032, which represents a testimony to the value of this property as a strategic retail location," Schellekens says.
Another retailer consolidating its presence in the building is Barkers menswear, which is upgrading its flagship store.
A new addition to the area is the Sydney-styled Grassy Knoll cafe, which has become a popular CBD meeting place. The latest addition to the precinct is Pearl, a stylish women's clothing retailer relocating from Ponsonby to the High St fashion precinct.
The corner site was originally occupied by the Commercial Hotel, which was built in 1841 and remained in business for almost 120 years, surviving two fires, the first in 1858.
The current building was constructed in 1925 and was designed by Wade and Bartley in stripped classic style. In 1959, the building became the now well-known Hotel DeBrett.
This was seen as a turning point for New Zealand's tourism industry, with Hotel DeBrett adding a level of detail and luxury not seen before in the country's accommodation and venue market.
Schellekens says that several facelifts to the building have enhanced its appeal, including the recent addition of an interior atrium that is an attraction for diners all over the city.
"The current owners meticulously renovated the hotel again in 2008, consolidating the already strong ground-floor retail component and creating a very special boutique hotel environment which has become one of the city's most popular meeting spots.
"The most recent extensive renovation has seen the building virtually re-built from the bones up with the interior gutted to make way for a soaring two-storey glass atrium at the heart of the hotel.
"Particular attention was paid to acoustic insulation, and the entire property was re-wired, re-plumbed, retro-fitted with sprinklers and fire rated throughout along with having new air-conditioning installed."
Hotel DeBrett is the building's main tenant paying annual total net rent of $600,000.
Green says the hotel was most recently recognised in the 2012 Trip Advisor Travellers' Choice Awards for both the South Pacific's Top 25 Trendiest Hotels and the Top 25 Luxury Hotels.
"It contains a range of bars, shops and restaurants that operate under the Hotel DeBrett banner.
Inside are several connecting spaces, including an Art Deco-style bar area, European-style courtyard and the glass-roofed atrium with a fireplace.
"Each room within the hotel has been individually decorated, with bespoke carpets, eclectic retro furniture and artwork giving each of the rooms a distinctive appearance," Green says.
The Cornerbar, Housebar, and Kitchen Restaurant are three of the flagship Hotel DeBrett businesses at the property.
The Kitchen Restaurant was recently announced as a finalist in the Cuisine magazine NZ Restaurant of the Year Awards 2012.
Green says the stylish hotel spaces are ideal for functions such as weddings, board meetings, corporate seminars and business dinners.
Hutt says property has a very strong corner profile.
"It has an unobstructed 36m frontage to High St, a 21m frontage to Shortland St, and an 11m frontage to O'Connell St, which runs parallel to High St and Queen St, from which it is clearly visible.
"The hotel is within easy walking distance to the Britomart train station just four blocks to the north, or the bars and restaurants of Britomart precinct, Viaduct Harbour, the Sky Tower, Vector Arena and the ferry building."