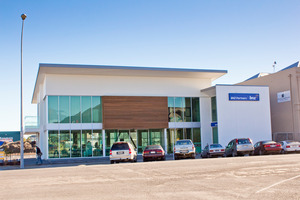 A newly-built commercial property at 65 Customhouse St, in an evolving part of Gisborne's central city area and hosting a high-profile tenant, has been put on the market.
The property, which also has vacant ground floor space, is being sold by private treaty through Colin McNab of Bayleys Gisborne.
"Alternatively, the ground floor component of the building is available for lease," he says.
The two-storey, Fringe Commercial zoned building on Customhouse Street, which is also known as State Highway 35, was constructed by respected Hawke's Bay company Mackersey Construction for developer Apec Equity.
The 402sq m first floor of the building, including decks and entrance lobby, has been leased to BNZ Partners for their flagship business centre. BNZ has naming rights for the building and an initial lease of 10 years with rights of five 5-year renewals. The first floor premises have been fitted out in line with other BNZ Partners business centres around the country and are described as "high end".
The ground floor space of 320 sq m is currently vacant
"Investors looking for sound returns over a long period without the issues associated with older buildings will be drawn to this offering," says McNab.
"The developers, Apec Equity, have been largely instrumental in much of the redevelopment of the Customhouse Street area - once a neglected light industrial part of town.
"Customhouse Street is within easy walking distance of the main street of Gisborne and is finding favour with businesses and corporates following the lead set by The Warehouse and Warehouse Stationery which recently opened diagonally opposite to the BNZ Partners building. New premises for rural supply store Farmlands are being built nearby at the moment, while next door is the recently-opened Three Rivers Medical centre," says McNab.
This is a purpose-built two-storey medical centre with an enrolled patient list of 18,500 according to the Three Rivers website. The centre comprises family doctors' rooms, pharmacy, radiology, midwives, physiotherapy, dental emergency, surgical specialists and a large social services provider on the first floor.
"Given the activity likely to be generated by the medical centre, this part of town will become far more visible which in turn opens up the end use possibilities for the vacant ground floor of the BNZ building which Bayleys is marketing.