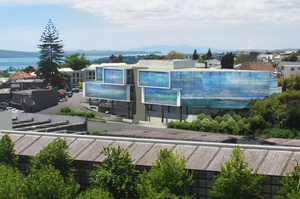 Company bucks property downturn to build three commercial 'spec' buildings in central Auckland.
Undaunted by the global financial crisis, Auckland family-owned company Mansons TCLM has optimistically forged ahead during an office development hiatus across Auckland with the construction of three commercial "spec" buildings comprising 28,000sq m of "premier, sustainably friendly" office space.
Mansons' new developments, now being offered to prospective tenants by Jones Lang LaSalle, are: the Victoria Centre at 27 Napier St, close to Victoria Park and the State Highway 1 motorway; the nearby 162VIC at 162 Victoria St West, marketed as the city's newest green-star-rated building; and Nuffield Corporate Centre at 73 Remuera Rd, which is almost completed.
Mac Manson, director of leasing and marketing at Mansons, says continuing to build during a commercial property downturn has paid off.
"There is an increasing demand for environmentally friendly buildings that offer flexible and efficient office solutions, and these new properties comprise a significant portion of Auckland's latest available office space," Manson says.
"An anticipated shortage and the long lead times to produce new buildings convinced us to commence new buildings without pre-commitment."
Matt Lamb, office leasing broker with Jones Lang LaSalle, who is marketing the properties on behalf of Mansons, says 162 Victoria St West, known as 162VIC, is located opposite the Manson-built 30,000sq m Telecom headquarters development and offers 7700sq m of rentable area on floor plates ranging from 1082sq m to 1720sq m. "This building provides the latest in services and specifications, including an energy efficient four-Green-Star rating.
"An impressive atrium extends through all five levels, with suspended walk bridges exclusively servicing each floor. There are ample cycle parks along with showers, and an on-site Sierra Cafe, which Chris Beasleigh and our retail team leased in May."
The location is close to a Les Mills gym. The site has good access to motorway on- and off-ramps. A Link bus service to the CBD and outer suburbs stops in front of the building.
Lamb says inquiries are coming from corporates looking to house their companies and staff in an emerging information technology precinct.
The nearby Victoria Centre in Napier St is also a four-Green-Star premier office development, with 8300sq m of space comprising four levels of offices and two basement levels holding 227 car parks.
Floor plates range from the uppermost level's 390sq m, with an exclusive deck, to 2500sq m plates on Levels 1 and 2.
"A feature of the office floors is the generous stud heights, while the large floor plates allow for tenancy expansion flexibility."
GHD Engineering has taken around 3000sq m of office space with naming rights - merging into one building offices from Rodney, Manukau and Auckland as a result of the amalgamation of Auckland councils, which were among its clients.
Lamb says inquiry for the Victoria Centre is tending to come from larger companies seeking consolidation efficiencies and staff retention that come with the big floor plate sizes.
The third Manson building is the Nuffield Corporate Centre at 73 Remuera Rd, which is expected to reach completion in the first quarter of 2014.
Sitting within the Newmarket commercial district and Remuera's "golden mile" of medical specialists, the site is a short distance from the intersection with Broadway. The development consists of three basement car park levels with five levels of office space above with 12,796sq m of rentable area on floor plates ranging from 2292sq m to 2940sq m.
The building will offer 309 secure basement car parks, all with direct lift access to all the floors, with 42 secure bicycle parks complemented by exclusive changing, shower and locker facilities.
The building will also have an on-site gymnasium for the exclusive use of tenants and staff members.
"This is a new-generation office building for Auckland, incorporating the latest in sustainability design to achieve five-Green-Star accreditation, which will result in lower operating costs and improved occupant comfort for tenants," Lamb says.
The Nuffield Corporate Centre is across the road from Newmarket's upgraded railway station, close to major bus routes and has access to several motorway on and off ramps. It is close to the Broadway retail centre with its numerous fashion outlets, cafes, restaurants cinemas, swimming pools, fitness centres and other facilities.
According to the latest Jones Lang LaSalle research, the Auckland CBD vacancy rate now sits at 11.2 per cent, which is well below the last cyclical high of 14.2 per cent reached 12 months ago.
"Newmarket's vacancy rate - at just below eight per cent - is at a three-year low, which bodes well for the Nuffield Corporate Centre," Lamb says.