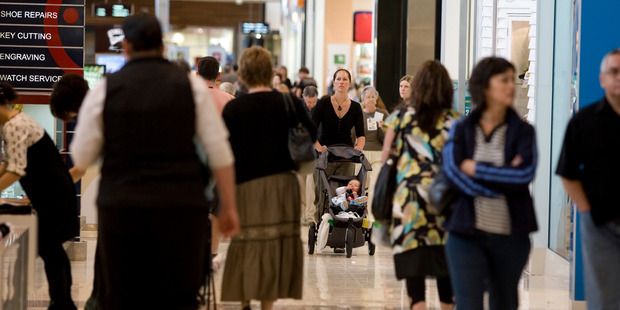 Big rates rises across Auckland malls owned by Westfield would push its tenants' charges up 48 per cent on average and the annual rates bill would soar from $11.4 million to $16.9 million, the company says.
Justin Lynch, Westfield (NZ) director, was one of many business chiefs who yesterday decried the Auckland Council's long-term plan and new charges from July 1, telling how businesses would be hammered, shop staff could be cut and retailers would be forced to take desperate measures to handle the big increases.
Businesses presented submissions to the Auckland Council at the Town Hall yesterday.
Lynch said Westfield businesses employed about 9000 staff yet each Auckland shopping centre retailer faced an average $4583 rates increase.
Eight Auckland shopping centres - all except Downtown on Quay St - would suffer rates increases.
Councillors Cameron Brewer and Dick Quax indicated their support for his views, asking what Westfield would get for paying almost double its current rate bill.
Brady Nixon, Progressive Enterprises' development manager, said the supermarket business planned to spend $200 million, making it the country's single largest real estate developer. Yet it faced untenable increases which would hit projects such as Ponsonby's Soho.
"Auckland is competing with other New Zealand cities for a limited pool of investment. High development contributions will affect the viability of development in Auckland.
"Progressive has to consider development costs, rates and return on its investment when choosing to invest. The council is making investment in the city more difficult," Nixon complained.
Westfield and Progressive made a joint submission, headed by Russell McVeagh lawyer James Gardner-Hopkins.
The Warehouse complained about rising development contributions.
Carter Holt Harvey's general counsel, Denver Simpson, told how new wastewater charges would hurt the company's Penrose mill where costs would rise $900,000 - a 127 per cent increase on the previous year 's charges.
Goodman NZ accused the council of hurting businesses.
"It is not appropriate that business ratepayers subsidise residential ratepayers, which is the effect of the proposed rating system," its submission said.
Mighty River Power complained of a 30 per cent general rates increase.
"Is that fair and reasonable?" asked its planning manager, Stephen Colson.
Fulton Hogan Land Development, New Zealand Breweries, CDL Land New Zealand, Sanitarium Health and Wellbeing and Metlifecare also made submissions.