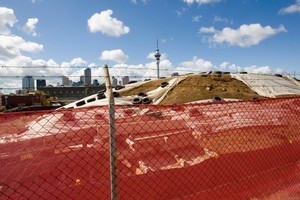 The developer who turned the Heards confectionary factory in Parnell into apartments says political interference in his latest project has soured his taste for doing more in Auckland.
Robert Neil, of Safari Group, said he was disgusted with the Auckland Council hearings committee demand for a full public hearing of the resource consent for a five-storey Quest Hotel opposite Victoria Park.
The committee decided on Friday that the application for the Beaumont Quarter site should be fully notified, because of potential adverse effects on neighbouring apartments such as shading, dominance and traffic.
Mr Neil said it was a case of politicians hijacking the process.
The application for resource consent was lodged in October after months of council planning officers "giving it the once-over something horrible" and it was cleared by the Urban Design Panel.
Although parties affected by the project had not given written approvals, officers said it now met all requirements of the Resource Management Act and should go ahead without public notification.
Mr Neil said councillor Mike Lee wrote to planners, Auckland Central MP Nikki Kaye asked to be kept informed on the issue of notification, and 20 people from Beaumont Quarter body corporates asked Mayor Len Brown to give them a say.
"Then you get the hearings committee chairwoman, Noelene Raffills, going round the neighbourhood doing her own research and speaking to people ... And for Mike Lee to be able to sabotage Friday's meeting is a disgrace. He is not part of the hearings committee, so how did he get to speak?"
Mrs Raffills said she visited the neighbourhood to check that the Victory Church would be happy if only the owners of the apartments had a say.
Mr Lee said that full notification was an enlightened decision.