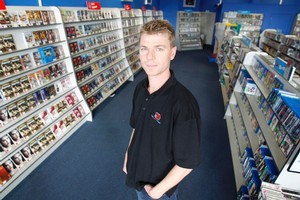 The manager of an Auckland shop on Maori-owned land says he faces a ground rental increase from zero to $70,000 a year.
Paul Bray, who runs the Video Ezy at 8 Quay St, says his landlord is facing the steep rise after landowner Ngati Whatua o Orakei Maori Trust Board warned that from June 30, it would begin charging. The buildings on 20ha of Maori-owned land in Quay St have enjoyed a 15-year ground rent holiday.
"They want $70,000 for my shop in ground rent, on top of the $80,500 in building lease. This would be an 87 per cent increase."
Mr Bray said shop owners would walk away at the end of their leases or go bust. He had heard tenants in apartments above were all vacating. The block "will be a ghost town".
Ngati Whatua chief executive Tiwana Tibble wrote to the body corporate of the 20 shops saying the land was now valued at $25.5million.
"The lease provides for the annual rent to be fixed at 6 per cent of the freehold value," he wrote to owners of shops, apartments, Mobil service station and KFC outlet.
Last year, Mr Tibble encouraged anyone worried about the new charges to approach the board to negotiate. Some settlements had been reached, he said.
Mr Bray said a valuation his body corporate commissioned showed the land worth nearer $15million.
The iwi says the 15-year ground-rent holiday on all the Quay Park land has been worth at least $460million.
Buildings the new payments will hit include Vector Arena, a supermarket, several apartment blocks, residential units, Quay Park Health, Grand Central Railway campus, hotels, shops and restaurants.
Other retail tenants said their buildings were owned by investors but they understood McDonald's and KFC alone were facing new annual rent charges of $21,000 a month and $14,000 a month. Tenants in upper-level apartments would be asked for an extra $280 a week, so were leaving.
A schedule of the new charges showed Mobil, on the largest site, was being asked for $35,442 a month.
Angry building owners intend to fight the iwi and want the matter to go to arbitration. "Out of the 20 shops, 14 are being asked for $2616.32 a month," Mr Bray said.