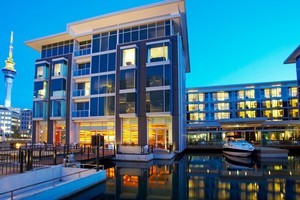 About 100 staff at the Westin hotel in Auckland are losing their jobs as most rooms there are shut down.
Receivers of Lighter Quay Hotel Management - the company involved with the Westin Hotel complex - today said the five-star hotel would continue to operate at a reduced capacity.
Facilities such as the spa, bar, cafe and conference facilities, along with 77 of the hotel's 170 rooms would remain available, the receivers, KordaMentha, said.
KordaMentha said the receivership was the result of failed negotiations between Lighter Quay Hotel Management and its creditors, who included room owners who leased the hotel rooms to Lighter Quay Hotel Management.
Since opening in 2007, the Westin hotel had been popular with locals and domestic and international guests, and was fully booked for the Rugby World Cup, receiver Michael Stiassny said then.
Today he said court action taken by the unit owners and the resulting reduction in the number of rooms had meant full staff levels could not be sustained.
There had been no option but to work through a redundancy process affecting 99 employees.
A group saying it represented the owners of more than 110 rooms at the Westin hotel said the owners had tried to engage the receivers in dialogue that would see the hotel continue to operate at full capacity.
They had also made an indicative offer to purchase the assets controlled by Korda Mentha, but as that was effectively rejected without proper response, those rooms would now close.
The owner's solicitors had been advised the receivers would try to prevent the 110 owners from gaining access to their property, as well as disconnecting the power, telephone and television, the owners' group said.
The owners had obtained an independent valuation of the assets controlled by the receiver and subsequently had made an offer to purchase those but no response was received.
KordaMentha said no reasonable offer was tabled by the unit owners to buy the assets and therefore receivers took steps to start an impartial mediation process to try to resolve the differences with unit owners. That was rejected out of hand by the unit owners.
Following the court ruling and the termination of a number of the leases the receivers successfully negotiated temporary lease arrangements which meant the hotel has operated at full capacity until now, but negotiations to further extend those leases were unsuccessful, Stiassny said.
"Our intention from the start was to keep the hotel operating, and we are pleased we have managed to do that, albeit at a reduced capacity from today," said receiver Michael Stiassny.
"However, we are disappointed that the court action and resulting reduction in the number of rooms, has meant full staff levels simply can't be sustained. As a result, there has been no option but to work through a redundancy process affecting 99 employees.
"This is clearly disappointing as we have done everything possible to keep the hotel operating at full capacity until now."
- NZPA / NZ HERALD STAFF