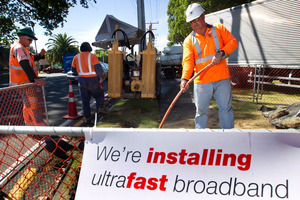 Chorus is trailing behind other ultra-fast broadband network builders in speed tests, says TrueNet.
TrueNet, one of the broadband testing services endorsed by the Commerce Commission, measured fibre internet speeds during October from Chorus, Christchurch's Enable Networks and the central North Island's Ultra Fast Fibre.
This series of tests compared speed from the three network builders over two different ultra-fast broadband products presently available - the 30 megabits per second download service and the 100 megabits per second equivalent.
These fibre companies sell wholesale services to internet companies, which then sell them onto consumers.
TrueNet measured the proportion that each of the fibre companies' recorded better than 90 per cent of the advertised speeds for each of the different broadband products.
So it measured the proportion where recorded speeds were better than 27 megabits per second (for the 30Mb/s service) or 90 megabits per second (for the 100Mb/s service).
Just over 60 per cent of tests for Enable's 100Mb/s product recorded speeds over 90Mb/s while close to all of the tests for Enable's 30Mb/s service were over 27Mb/s.
For Ultra Fast Fibre, around 70 per cent of tests for the 100Mb/s service were over the limit while between 85-90 per cent of tests for 30Mb/s service did the same.
For Chorus - which is building the majority of the UFB network - over 90 per cent of the 30Mb/s tests matched the limit, while under 50 per cent of the 100Mb/s did.
"Taking the average of both 30Mb/s and 100Mb/s speed tests results, Enable came out on top closely followed by UFF with Chorus lagging behind in third place," TrueNet said.
"TrueNet's latest comparisons show that work needs to be done on performance to ensure the ultra-fast broadband (UFB) project is fully successful," the testing service said.
TruNet's John Butt said the testing was done with 42 probes around the country. He would not break down how many probes were used to test each of the fibre companies, but said there was a minimum of five for each.
"Naturally we have a lot more Chorus probes, but after specially seeking probes in the other LFC [local fibre companies] areas," he said.
TrueNet said it did not have enough volunteers to conduct the tests in Whangarei where Northpower is building the fibre network.