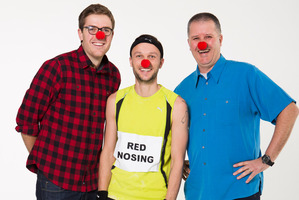 Live television, comedy and doing good come together next Friday night on TV3. Comedy for Cure Kids: Good Sports is screening from 7.30-11pm on August 23. Following the success of last year's Red Nose Day: Comedy for Cure Kids, which raised more than $1.3 million for medical research for Kiwi children, this year's comedy event comes with a twist. Broadcasting live from Auckland's Q Theatre, this year's show has a sporting theme, with world-class sportspeople and comedians teaming up to create the funniest night of the year, all for a good cause. Jeremy Corbett and Paul Ego of 7 Days will again host and the night will feature 7 Days and Jono & Ben at Ten specials as well as All Blacks and other TV3-associated entertainment faces, including Stan Walker and Guy Sebastian.
There'll even be a reunion of the Ice TV crew - Jon Bridges, Nathan Rarere and Petra Bagust are back together in support of this great cause.
Red Nose Day is a national fundraiser run by Cure Kids to raise money to enable vital medical research into life-threatening illness that strike Kiwi children.
• More info: rednoseday.co.nz