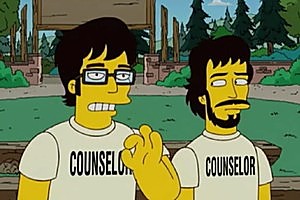 Kiwi Flight of the Conchords duo Bret McKenzie and Jemaine Clement have cemented their star status with an appearance on The Simpsons.
The comedy pair were immortalised as yellow cartoon versions of themselves in the premiere episode of season 22 of the famous show, which screened in the United States in the last few hours.
In an episode entitled "Elementary School Musical", Marge Simpson sends Lisa to a performing arts camp where artsy counsellors played by Clement and McKenzie - along with fellow musically inclined campers played by Glee stars Lea Michele, Cory Monteith and Amber Riley - inspire her to embrace her creative side.
The pair's planned Simpsons appearance was leaked earlier this year but manager Mike Martinovich said he was unable to comment.
Two other New Zealanders have guest-starred on the show in its 21-year history - Xena star Lucy Lawless and Jurassic Park actor Sam Neill.
Watch a preview of the episode, in which the Wellington duo will no doubt please fellow Capital locals with a reference to the Botanic Gardens, below.
- NZ Herald staff