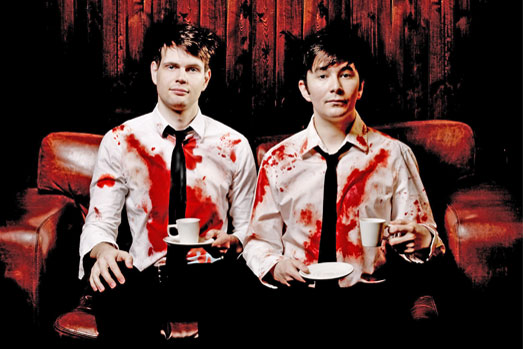 If comedy was once the new rock'n'roll, it would seem that magic may now be the new comedy. There's a small wave of conjuring acts vying for stage time with stand-ups at this year's festival.
Being any sort of Next Big Thing strikes the Scottish duo of Barry Jones and Stuart MacLeod - or just Barry and Stuart - as funny, considering where it all started for them.
Laughs Macleod: "When we were growing up it was so geeky to be a magician. To be a magic geek was a little bit like being a comic book geek. It wasn't seen as very cool at all. It is quite exciting for us that magic has sort of become quite fashionable. And we hope to ride the wave."
Well it's been a sometimes-wild ride for the boys from Aberdeen so far. The pair have had a string of television series in Britain since they started out making their own videos of their horror movie inspired-tricks.
They came to controversial national attention in the UK, when in 2005 and 2006 they fronted two specials The Magic of Jesus and Tricks from the Bible in which they replicated miracles from the good book.
One disapproving bishop was quoted as saying that the pair should be crucified to see if they could rise from the dead after three days.
Jones: "The Bible things were ideas that so many magicians have had, and have always wanted to do but didn't have the balls to do it in the end. So we were the ones who managed to do it. Even Houdini had said he wanted to do a show where he would do Bible miracles. It's not just mischief making - we want to do new and interesting things that haven't been done before."
The Aberdeen-raised pair got together as 15 year-old magic geeks with a taste for the ghoulish and confrontational. But their witty rapport gave the act a comedy element which makes them an easy fit for stand-up clubs.
MacLeod: "When we were students we were quite pretentious.We were up our own asses a bit and we wanted to do art pieces or horror pieces. But much later we just found our own feet and the comedy stuff seemed to just come naturally after that."
Barry and Stuart aren't the only magical-comedy act at the festival this year. Others include local rising star Jarred Fell and English mentalist Chris Cox, who doesn't agree with the "new rock'n'roll" premise.
"Magic isn't the new comedy, but us entertainers who happen to do magic have taken a big page out of the comedy book and used it to enhance our acts."
"Why? Well partly because we are intelligent enough to credit our audience with the same amount of intelligence as us - they know magic doesn't really exist, and comedy can go a long way to helping you get them on side for when you want to pull the rug from under them and amaze them."
Though they might be a hilariously quick-witted double act live - "we are like one individual with two heads," says Jones - Barry and Stuart still go through few a few litres of fake blood in their show.
One trick entitled Suicide in C Minor involves an alarming bit of pretend self-harm set to classical music, while other online video clips suggest they are the demon spawn of Penn and Teller. Yes, that good. And now they have to bring their prop-heavy act all the way to New Zealand, Icelandic volcanoes permitting.
"There are a lot of sharp objects," says Jones of the pair's excess baggage. "Things that may look innocent but maybe they are not. I hope we don't get checked at Customs."
LOWDOWN
Who: Barry Jones and Stuart MacLeod
What: Barry and Stuart in Powered by Demons
Where: Limelight Laugh Lounge, Aotea Centre
When: Sat April 24 to Sat May 8 10pm
Info: www.barryandstuart.com
By Russell Baillie @RBaillieNZH

Email

Russell