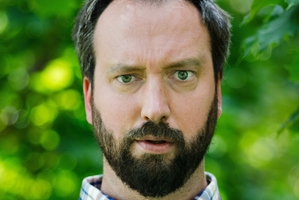 What sort of voice should we read your answers in?
You should read all of my answers in a thick Canadian accent. And for maximum effect, visualize me dressed in a full Royal Canadian Mounted Police uniform, while riding a horse wearing hockey skates pirouetting across the ice with incredible ease.
Are you worried about how you'll come across in print?
I've been making ridiculous comedy, television shows, and movies for over twenty years. At a certain point you learn to tune out what people write about you and just focus on being funny. Although since I am writing this article myself ... Yes I am worried.
Describe your show in 10 words or less:
A comedy show about the absurdity of life in 2013.
Is there somewhere we can see your work online? If not, why?
I got into internet broadcasting early starting tomgreen.com in 1996. My webshows, standup, podcasts, and film clips are all available at tomgreen.com - You can also get my full Showtime Comedy special on iTunes and Netflix.
I'm often tweeting videos from my twitter account @tomgreenlive. And if you like ridiculous gonzo man on the street comedy you can spend hours and hours watching outrageous stunts from the early years of The Tom Green Show on my new channel at Youtube.com/tomgreen. Enjoy!
What does your mum think of what you do?
My mum is relieved I have directed my focus towards standup and have stopped pulling pranks on her and my Dad. In the early years of the show my parents were often unwitting participants. I painted their house plaid, painted pornographic images on their car, (The Slutmobile) and barged into their bedroom countless times in the middle of the night, with video cameras rolling. We started The Tom Green Show in 1994 on public access TV in Canada before the era of reality TV. Eventually the show got picked up by MTV and I moved from my parent's basement in Canada to Los Angeles. A lot has changed since then. I have a great relationship with my parents now. But I'm sure they prefer me to be doing standup comedy in New Zealand instead of pulling video pranks on them back home.
Eight minutes into your show, all going well, what should be happening?
I have been touring the world non-stop for the past 4 years but this is my first series of shows in New Zealand. Nobody in New Zealand has seen me live before so the audience won't know what to expect. My show is very fast paced. It is very high energy and the laughs start right out of the gate. 8 minutes into the show people will realize they are in for a crazy ride. They will be laughing hard and trying to figure out exactly where the show is going to go next. I touch on a wide range of subjects covering personal, political and social issues, as well as a heap of observational and physical humor. I try to keep the audience on edge by switching my rhythm and not revealing everything about myself right out of the gate. 8 minutes into the show everybody in the audience will be having a great time.
Where are you usually when ideas or jokes come to you?
Inspiration can strike anywhere and at anytime. I always make a point to make notes to myself whenever I think of an idea. Before every show I go through my notes so I can incorporate new ideas into my performance. Sometimes ideas come to me live on stage and often the first thing I do after my shows is write any of the new ideas down so I can remember them and develop them more. I tend to come up with a lot of my ideas when I am out having fun with friends. I often stop in the middle of conversations and scribble down thoughts and ideas if I think they will work onstage. I am writing non-stop and crafting together new ideas is something that I really love.
What's more important to have as a comedian, youth or wisdom? Discuss.
I would say most definitely wisdom and experience. I started doing standup comedy when I was 15 years old at a comedy club in my hometown of Ottawa Canada. At that time I had a lot more energy and youthful enthusiasm but no experience with life. I did well, but I feel far more confident on stage now as a 41 year old man. It is important to connect with audiences by speaking about things that are relevant to people. I personally have changed significantly through experiences that have shaped who I am as a comic and as a human being. I have been through illness, surviving cancer when I was 28 years old and dealt with post surgical treatments, stress, and fear. I have had wild successes and heartbreaking failures. I have lived a lot more life than when I was just a kid telling jokes about TV commercials and Saturday morning cartoons. Based on experiences over time a comic becomes more acutely aware of his or her true feelings and beliefs. Having that confidence is helpful when you are hoping to connect with a crowd of human beings.
Who's your comedy hero, and why?
George Carlin pointed out truths about the world unlike anyone else in his time. He was one of the first real media critics that shined a light on the hypocrisy in the world by making brutal observations about subjects that others would not dare touch. He was fearless in his material and spoke truth to power in a way that made many people of the modern era question the world they lived in for the first time. His comedy changed comedy. His ideas changed our perspective, changed the way we think, and gave us tools that allow us to better live our lives.
TOM GREEN LIVE
Where and when: Skycity Theatre 9pm, Wednesday May 1 and Friday May 3