Seven Sharp offers a variety of stories that are entertaining and informative - in a shallow sort of way.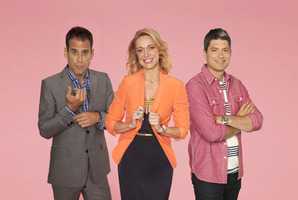 That most picked-upon local television show of recent times, Seven Sharp, seems a little sharper these days. Or have I just been sitting more comfortably than usual?
Anyway, I do mean only a little sharper, that is, than the silly, chattering new weeknight show that turned up earlier this year as TV One's proud replacement for dear old Close Up.
The months have passed and the ratings have recovered somewhat, but sharpness will never be what we turn to Seven Sharp for. We turn to Seven Sharp as we would, perhaps, to dessert, when we find ourselves still hungry after a thin hour of news on the mother channel.
I watched the show three nights running last week and it didn't hurt as much as I thought it would, though I'm glad I took note of what the featured stories were. I'd never have remembered them otherwise.
They are of a variety that is soft and not-very-current affairs at all.
Last Wednesday, for instance, the show's bright and likeable field reporter, Heather du Plessis-Allan, had some fun with a story about the mysterious closing of a Department of Conservation reserve, dressing up as a DoC officer and being bossy to the public.
Then there was a gory story from Michael Holland about a disturbingly enthusiastic young woman butcher in Kaitaia and, back in the studio, the very dapper rapper will.i.am, chatted affably with the three excited Seven Sharp presenters.
It was a good show, in a shallow sort of way. Like a Town and Around for today.
A gushy piece about the return of Georgie Pie aside, Thursday's show was no trouble to watch either, with du Plessis-Allan doing an action-girl turn in a breezy report about the navy needing recruits.
There was a comedian who talks to dead celebs and then we shot down to Rakaia for the start of a regular feature called On the Map, looking at some of the country's little places - but not in any deep or meaningful way. In fact, it didn't really get beyond the town's salmon statue. Friday's edition had actor and Herne Bay hunk Karl Urban as a studio guest, turning presenter Greg Boyed into a gibbering fan boy, getting in the way of almost everything.
Though there wasn't a lot to get in the way of on a show full of bits and pieces - some of it sitting uneasily together. The show's almost flippant lightness elsewhere made a report from US correspondent Jack Tame on the Cleveland kidnappings seem out of place.
Jesse Mulligan's featured piece on the week that was just wasn't as funny as it seemed to think it was and the incessant between-item chat between presenters Boyed, Mulligan and Ali Mau still has a gratuitous slap about it. But yes, the show's a little sharper.
For something considerably sharper, though, there's Arrow, a rather good American superhero series that started on TV2 last night (9:15) with all the requisite parts this sort of yarn should have - including a super budget, by the look of it. Its star is Oliver Queen, a brooding billionaire by day and brooding superhero by night. The woman he loves - from a brooding distance - is called Laurel Lance and there's almost as much romantic tension as there is action.
There's a secret lair and no shortage of bad guys. Nothing new, but sharp.