TV3's latest line-up of singing shows brings a slight twist and the usual cliches before a disturbing development.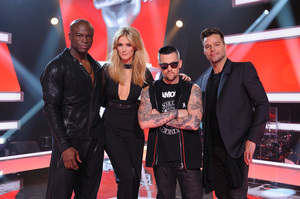 In case you hadn't noticed, there are suddenly singing contest shows all over television, most of them virtually the same, separated only by key words or even just a letter - X, Talent, Idol, Voice.
They are TV's new cooking shows, with their over-baked judges and elimination rituals, though of course the cooking shows aren't gone yet.
We might yet have to brace ourselves for an attempt to blend a bake-off with a sing-off before those things disappear back to the kitchen where they belong.
But, turning to face the tsunami of sing, I approached a recent arrival, The Voice Australia (TV2, 7.30, Friday) with as open a mind as possible, having last week declared my affection for TV3's The X Factor NZ.
The Voice Oz, like the others of its ilk, has its little points of difference.
This one has its four celeb judges parked in turn-around chairs so they can eyeball the studio audience rather than the performers during the blind auditions.
This calls for the judges to demonstrate their emotional connection to the voices they're hearing. In Seal's case, that was sometimes alarming. Ricky Martin, with his louche Latin lover looks, felt the back of his own neck, for the hairs rising I suppose.
Delta Goodrem told someone "I want to help you grow" and really meant it. The tattooed judge, Joel Madden, was forever teasing with his big red approval button.
Usual thing, different details. The Voice Australia, though, is a good spirited sort of show where the crazy contestants have been filtered out, the losers are let down gently and the big winners even get to choose which judge will mentor them.
That aside, it's all cliche - though there was some talented talent last Friday, like Danny Ross, a big-voiced blues-singing boy from Kangaroo Valley. I expect the New Zealand talent will emerge later in the series.
But if it's a singing show with a real point of difference you're after, immediately following The Voice Australia at 9pm is Killer Karaoke, a show that pretty much sets out to be just what its title suggests - with courageous and disturbing results.
Steve-O, who made his name endangering his mental health and his sensitive parts on the extreme reality show Jackass, is the host, though hosting takes on a cruel new perspective with this series.
Chasing the distant hope of winning $10,000, contestants are called on to do their favourite karaoke turn while enduring indelicate physical challenges.
I didn't spot in the credits the names of the 8-year-olds who came up with the individual tortures, but I hope they were paid their weights in lollipops at least.
Melissa, in her best dress, singing while swinging (in a swing), was dunked in a tank of ice water and when that didn't stop her singing, snakes were added and then a couple of alligators.
The fun intensified for Michael who was decked out in electric bracelets for a shocking performance of Ramblin Man. Another poor fool was sent half-blind and festooned in balloons through a maze of cactuses while shrieking You Are So Beautiful.
By the time they made the Otis Redding-singing football coach wade through fish guts and maggots, it truly felt like we had reached the very end of civilisation. What fun.