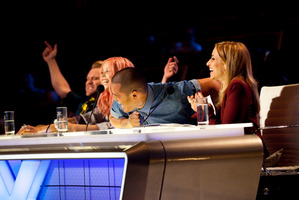 Episode two is the test. If we watch that and still like it, we'll watch episode three and there it goes. Next thing we know, it's episode 28 and the nation has a new singing sensation.
The X Factor NZ just got a bit better with last night's second episode (7.30, TV3) as the search continues for a winner to this alarmingly likeable franchise singing show.
The talent, in this audition phase, was a little more talented, though, of course, every circus needs its clowns.
But, again, signs of real talent - girl group Gap 5, sensitive 17-year-old singer/songwriter Fletcher Mills and Renee Maurice, a 27-year-old from Upper Hutt with a diamond voice.
And then there was the real fun - the judges, who all pumped up their own X factors last night, with the possible exception of Stan Walker, who seemed subdued after his Sunday-night performance.
Mean judge Melanie Blatt swung wilfully between hot and cold.
"You're super annoying," she told one poor hopeful. The crowd booed. Well done, Scary Mel.
Daniel Bedingfield is even more fun. "If anyone doesn't vote yes," he announced after one act, "I shall put a weta in their undies."
Candyfloss-haired Ruby Frost might have the hardest role of the judges, but she's just so nice in her sweet, glass-half-full way she might end up the show's quiet star.
Last night's unquiet star was the 14-year-old who announced he was "the next Stan Walker" before singing I'm Sexy and I Know It.
There was even a resurrected star with former TVNZ newsreader Dougal Stevenson popping up with some hysterical voiceovers. The conquest continues.