Native Affairs packed with good reportage presented in subtle fashion.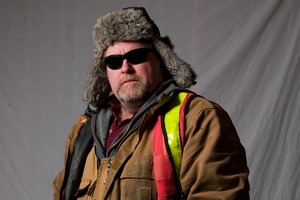 There is a middle ground in current affairs on television. It's called Native Affairs and it runs for an hour from 8.30 on Monday nights on Maori TV.
Unlike the other runners in the very competitive business of local current affairs shows, it is neither too lightweight and presenter-obsessed (Seven Sharp, 3rd Degree) nor too sit-up-and-listen serious (Q+A).
Native Affairs, which offers current affairs from a Maori perspective, has a new presenter for its 2013 series, which started last week, and Mihingarangi Forbes' slightly wooden presenting style makes a nice point of difference from the slick operators on those other shows.
But the really good thing is that content is king with Native Affairs. It comes jammed with solid reportage done in an understated, almost folksy style that can belie the seriousness of some topics, like the unsafe ferries of Tonga, which it investigated last week.
And when Forbes steps up with a studio interview, as she did last week with Labour leader David Shearer, she's a natural and as good as anyone, maybe better. She certainly took Shearer and his sleepy charisma for a lively dance for a change.
Native Affairs is all the better for its Maori perspective. It's the best local current affairs show on TV right now.
Meanwhile, in search of challenging armchair thrills, I've stumbled upon a new breed of television show.
You could call it the scary road genre - and I'm not talking Shortland Street or even Motorway or Highway or Dog Patrol.
I'm not sure which one of these new scary road shows came first, possibly Ice Road Truckers (7.30pm, Saturdays, TV3), a reality show that pretty much lives up to its name as it follows a selection of large men with small brains driving enormous trucks across the impressive landscape and challenging roads of Alaska.
After a while, you find yourself wishing there were a lot fewer shots of these fatties hauling their tattooed butts in and out of their rigs and a few more fatal crashes involving the stars.
Then there's what seems to be a spin-off series, World's Deadliest Roads (7.30pm, Wednesdays, TV3) which last week had a selection of ugly truckers - plus a token cute blonde called Lisa - on a selection of ugly roads in Bolivia.
Again, the lack of serious potential for any of the key talent to actually plunge off one of those cliff-hugging roads and into one of those bottomless gorges removes any real drama.
The best of the current road show crop goes by the relatively low-key title of Dangerous Roads (9.35pm, Tuesdays, TV One). This one's much more down-to-earth than the others - a BBC series involving sending various pairs of British celebs off for a drive on a long scary road in a far-off scary country.
Last week's episode sent a pair of bickering comedians for a drive from one side of Nepal to the other, with only a map to help them along. The towering, laconic Greg Davies and the nervy Welsh Rhod Gilbert made wonderful accidental tourists, terrified, tired and entranced by turn.
It's the best sort of travel show, lifted to a new level by the berks behind the wheel who actually do seem like they've been made slightly mad by the experience, just the sort of thing you want in this sort of show.
Tonight's episode sends adventurer Ben Fogle and comic Hugh Dennis for a drive from the Peruvian Andes to the Amazon Basin.
It could be that rare and unusual thing, appointment viewing.