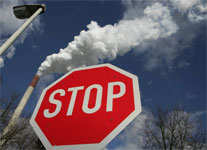 Eighteen months before a new climate pact must be agreed, the world appears to be drifting in negotiations that could be the most complex ever, experts say.
The pact is needed to replace or extend the Kyoto Protocol on tackling global warming, whose first round ends in 2012.
Some 190 countries have agreed to clinch by November 2009 a new or amended pact.
"At this point, it's not clear about a path forward," says Robert Stavins, co-director of a Harvard University project to help design a climate agreement, which hosted a meeting of academics, business, policy-makers and environmentalists in Venice this month.
The talks are complicated by an election in the US, a top emitter of greenhouse gases, which will see a new president elected in November but not inaugurated until January, with senior officials in place as late as June 2009.
Kyoto binds 36 developed nations plus the EU to cut emissions by 5 per cent below 1990 levels by 2008-12, while the next treaty aims to include all countries - at different levels of commitment.
The problem is sharing the cost of re-deploying the world's entire energy system away from fossil fuels and deciding how soon emerging economies adopt binding caps on greenhouse gases.
Academics may help, for example, by allaying rich countries' fears about the economic impact of adopting caps first.
The most affected, energy-intensive and traded sectors like steel and cement account for less than 5 per cent of employment and wealth in industrialised nations, one economist told the Venice conference.
Cap and trade schemes are now spreading beyond the European Union to other industrialised countries as a way to force industry to buy permits to emit the greenhouse gas carbon dioxide. But Western governments fear such schemes will hand an advantage to competitors in developing nations which have no such caps. One policy tweak could give developing countries carbon offsets to sell to rich nations.
Analysts say the difficulty of agreeing a treaty is stark. Developed nations may not have the political will to pay poorer ones perhaps tens of billions of dollars annually for carbon offsets, as a way to meet tough emissions caps.
While economists say the costs of fighting climate change are negligible compared to the size of the global economy and the risk of catastrophic climate change, those costs will be borne mostly by a few rich countries now, while benefits will be felt worldwide.
"It's getting over the first hump," says Richard Bradley, head of energy efficiency and the environment at the International Energy Agency.
- REUTERS