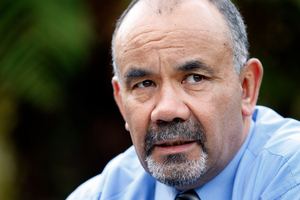 If the Ikaroa-Rawhiti byelection did anything, it drove it home to the Maori Party that it is now facing its Waterloo. So this week, as part of his efforts to try to persuade voters that rumours of the party's death were much exaggerated, co-leader Pita Sharples resigned, saying it would give the party the space for change.
MP Te Ururoa Flavell will probably be given the job of trying to resuscitate that party. The byelection result has, predictably, started another bout of the Mana-Maori merger shibboleth. Most of this has come from quarters sympathetic to Mana and is couched in terms of the Maori Party folding into Mana, rather than the other way round.
Any suggestion of a full merger remains as likely as Act merging with the Greens. As well as the personal antipathy, the two parties have developed into very different entities. They share some of the same policies but have very different philosophies, and, above all, very different ways of operating, from the leaders down to the grass-roots members.
What is gaining support within Maori Party ranks is the proposal to talk to Mana about cutting a deal over the most critical seats. The Maori Party's seats of Te Tai Hauauru and Tamaki Makaurau are vulnerable. Similarly, Mana leader Hone Harawira would be safer to take out some insurance - his majority in Te Tai Tokerau was down to about 1100 in 2011 and if he wants to increase his numbers, it might pay for Te Hamua Nikora to stand again in Ikaroa-Rawhiti without a Maori Party candidate. Mana can take some joy in having beaten the Maori Party into second place, but there is no seat for second.
Such an agreement may come to nothing, especially if either party decides to attach other conditions to it. After years of criticising the Maori Party for working with National, Harawira could hardly agree to a deal which would ask Mana Party voters to vote for a Maori Party candidate, only for it to prop up another National Government.
Even if they do cut a deal, persuading the voters to agree is another matter altogether. It is far from certain that Mana supporters would vote for a Maori Party candidate, and vice-versa. Many would probably instead opt for the default of Labour, or the compromise of the Greens.
Flavell does not have much time to navel-gaze about the causes of the Maori Party's plight. The first practical requirement he and a new party president will have is to secure good candidates. Obtaining one strong, high-profile candidate would encourage others to come forward. That is essential if the party is to have any chance of holding Tamaki Makaurau without Dr Sharples.
The second priority is to address the perception problem. It has spent five years trying to persuade Maori voters that sitting with National is better for Maori than railing from the sidelines.
Harawira has won the propaganda war and the party now has to address it. There is more than one way to do that. A National "endorsement" of the Maori Party would be more damaging than helpful, but there is one way it can help. To misquote Jessie J's Price Tag, in this case it is very much about the cha-ching, cha-ching.
In monetary terms, National has paid for the Maori Party support with peppercorn rents. What it has secured has been spread thinly over various programmes. One budget remains before the election and that is its last chance to show that it was worth it. It needs a big ticket item to its name.
English has indicated he has some room to loosen the poutea strings, but National also has itself to look after and has been busy clipping several big tickets for itself, announcing multi-billion dollar rail and roading plans for Auckland. It may also be wary of a governing arrangement with the Maori Party.
The Maori Party is a long way from those heady first few years after it was formed in 2004, when its MPs would go on roadshows together to canvas on controversial issues and talk people around to their point of view.
What it needs is a circuit breaker to try to reinvigorate that enthusiasm. If the likes of Turia and Sharples, hugely respected figures in Maoridom, could not get people to accept the National agreement, it seems unlikely Flavell will be able to. Where Flavell does have the advantage is that he is not regarded as being as tight with Key and National as Sharples and Turia are. He is more believable in terms of arguing a Maori Party led by him could side with Labour.
So we come to the nuclear option. That is for Flavell to set out a clear position before 2014 that it will not enter into a third confidence and supply agreement with National, or at least that it will talk first with Labour if there is a choice. That will not go down well with the party's present leaders who will worry it will go down as ingratitude or disrespect. But saving National from a red face should be a distant second to the survival of the Maori Party.
The Maori Party does not have to be rude about it - it can simply say that after two terms it has secured many of the gains it is going to get from National. Should National form a 2014 government without it, it could look at a Green-type memorandum of understanding to help ensure the continuation of schemes, such as Turia's Whanau Ora and Sharples' Maori prison units. That would also help address the other perception problem bedevilling the party - that its co-leaders were getting too fond of the perks of office, despite the mana attaching to them.
A spell on the cross benches would give it time to breathe, go back to its core messages without having to compromise, and rebuild the faith. It could do it some good. It would certainly do it more good than being out of Parliament altogether. No pressure, Mr Flavell.
Debate on this issue is now closed.