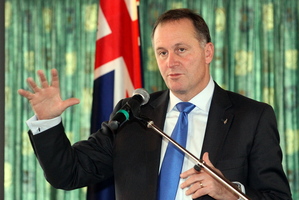 Prime Minister John Key has sent a signal to China to work more closely with countries such as New Zealand over its aid programme in the Pacific, saying some projects such as sports stadiums are nice but not necessarily what are needed.
Beijing had "grown tentacles around the world", Mr Key said, but New Zealand could work to see aid programmes delivered constructively.
The role of China in the Pacific has become even more of a focus of the Pacific Islands Forum this year because of the visit of US Secretary of State Hillary Clinton to the Cook Islands for talks on Saturday after the main two days of meetings.
It is a visit widely believed to have been prompted by concern at being outflanked by China.
Mr Key said Clinton's visit was "very significant" and a sign the Pacific Forum was increasing in importance and status. Mrs Clinton will sit with all 15 Pacific leaders at the breakfast talks, and will then hold some one-on-one meetings.
China will also be represented at the post-forum talks, as it has for several years.
Last year, the United States sent a delegation of 50 to the forum, which was held in Auckland. The European Union's President Jose Barroso also attended, as did UN Secretary General Ban Ki-Moon.
Asked if he believed the visit was prompted because of concern about China, Mr Key said the United States had a long history in the region itself. He was not worried about China's growing influence but said New Zealand did believe it was well placed to work with other donors in the region - a hint that China should agree to more co-operation rather than funding aid off its own bat.
Mr Key said there had historically been concerns that aid projects such as sports stadiums did little to promote economic independence.
"It's not something you can stop anyway. China has grown tentacles around the world, it's been growing a footprint round the world and even if New Zealand didn't like it, it's not about to stop."
He said the increasingly high-powered delegations the United States had sent to the forum over the past two years was a sign both of President Barack Obama's focus on the Asia-Pacific region and of the maturing of the Pacific Islands Forum.
Centre for Strategic Studies director Robert Ayson said such attention would help increase the relevance of the forum, but there was little doubt that the interest from the US was prompted by China.
"It boils down to a concern China was having a bit too much profile and influence, and that the United States was not as present and evident as it might be."
"Hospitals, roads, buildings, a lot of them say 'made in China'. And I think that does cause people to pause for a moment."